Jersey and Guernsey set for new 50-over tournament
By Phil Harlow
BBC South West Sport
Last updated on .From the section Cricket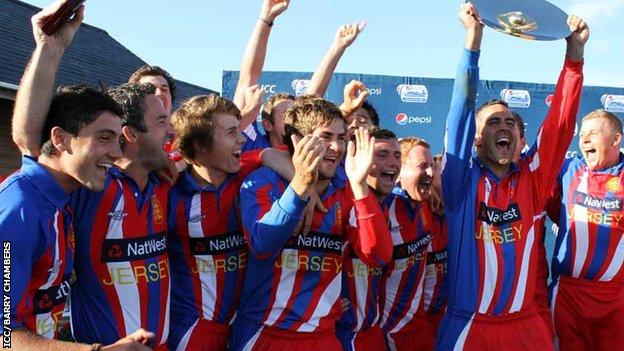 Jersey and Guernsey will play in a new 50-over tournament next July.
The tournament pits the teams against Denmark and Italy, with the aim of giving players more experience of one-day cricket.
The Channel Island rivals play in Division Five of the ICC World Cricket League in March, a 50-over tournament.
"The idea is to fill a gap between one-day and Twenty20 cricket," Jersey Cricket Board chief executive Chris Minty told BBC South West Sport.
The four teams involved are ranked fourth to seventh in the European rankings and Minty said the new tournament - which will be held in Sussex - would provide all of them with meaningful competition in the one-day game outside of the World Cricket League.
"We had a lack of 50-over games and it's the best way of us competing against teams that are ranked slightly higher than us, so it's very good competition for everyone," he said.
"We can make sure were providing both forms of cricket because the World Cricket League is very important to all the countries, but so is T20.
"Having identified that we had no European T20 tournament next summer, it seemed an ideal time to have a long weekend set aside to play each other.
"If it proves a success then we very much hope it will be come a regular part of the calendar.
"It could be argued the World Cricket League is even more important that the T20 [to these four teams], so this tournament is going to be a massive help to all those countries to keep them prepared for 50-over cricket."
Jersey and Guernsey face Nigeria, the Cayman Islands, Tanzania and Malaysia in the World Cricket League in March and Minty said the new tournament could provide the teams with the perfect preparation for Division Four later in the year should either team win promotion.