Guernsey cricket chief excited by new 50-over tournament
Last updated on .From the section Cricket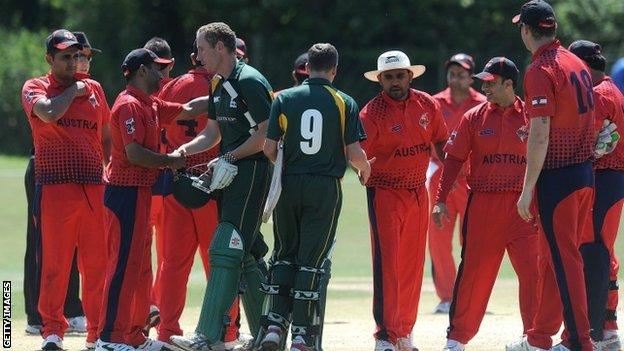 Guernsey Cricket Board chief executive Mark Latter says next year's new 50-over tournament will help players reach a higher level of performance.
The new tournament, scheduled for next July, brings Guernsey up against Jersey, Italy and Denmark.
The four teams are ranked from fourth to seventh in the European rankings.
"With Nic Pothas coming in as full-time director of cricket we want to push ourselves on and off the field and this is part of that," he told BBC Guernsey.
"The cricketers are all in the gym first thing in the morning now and are leaner and stronger - but they're going to demand more cricket at a higher level from us.
"It gives us an opportunity to play more at international level and fits in nicely in the gap between domestic cricket and international competition and it's something we've been trying to fill for some time.
"All four countries have the same problem in that it's a bit of a feast-or-famine calendar - we've got domestic cricket, a 50-over tournament and Twenty20 tournament but they can be every other year, or come in the same year.
"So we've come together and said 'we've got the same problem, let's find a solution'. We're all pushing for the Scotland, Ireland and Holland spots [in the rankings].
"We lost to Denmark in the semi-finals of a T20 tournament last season and that showed us the yawning gap between us and Italy and Denmark. This isn't the end of were we get to but it's 80-90% of the solution in terms of a calendar."