Ashes 2013-14: Kevin Pietersen has treatment on a knee injury
Last updated on .From the section Cricket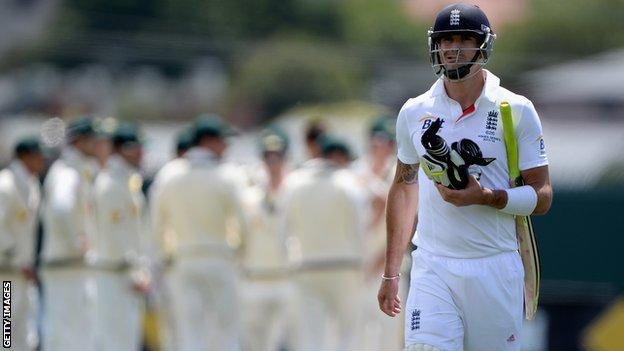 Kevin Pietersen has rejoined the England squad in Sydney after having a cortisone injection in his knee in Melbourne.
Pietersen, 33, is expected to be available for the final warm-up game before the start of the Ashes, against New South Wales XI on Wednesday.
He was sidelined for three months with a knee problem earlier this year.
Pietersen, who has scored 7,887 Test runs at an average of 48.38, last had an injection between the fourth and fifth Tests of the victorious Ashes series in August.
He has previously had cortisone injections to help tackle spine and Achilles problems.
Pietersen's right knee became a major concern when he was forced to fly home from last winter's tour of New Zealand with deep bruising around the bone.
He missed home and away series against the Black Caps as well as the Champions Trophy, but rejected the option of surgery because it would have ruled him out of consecutive Ashes series.
Pietersen first felt the problem in training before the start of the Australia A match on Wednesday and went on to make eight before falling lbw on Saturday.
England coach Andy Flower is confident Pietersen can manage the problem.
"I don't think it's going to be a huge issue," Flower said. "He's had a couple of these injections before, and they've been successful [and] quietened the problem down.
"It's obviously an ongoing issue for him but we anticipate this one being successful and anticipate him playing a full part in the Ashes tour."
The concern over Pietersen follows the news that wicketkeeper Matt Prior will have a scan after suffering a calf injury against Australia A in Hobart.
England spinner Graeme Swann says he's not concerned about the injury concerns.
"I think Kev's fit for Wednesday and Matt will be fine," said Swann. "You tend to get that a lot. Most of the players will carry a niggle, but the press don't find out about most of them.
"I would be a bit worried obviously on the eve of it, but knowing these two they are two of the fittest guys in the squad - despite being among the older guys - and they'll bounce back as quick as anybody."
Bowler James Anderson added: "They are huge players for us. Matt's the vice captain and plays a crucial role at number seven, and we know exactly what KP can do with the bat.
But if they're not fit, for whatever reason, we know we've got some very adequate replacements waiting in the wings."
The first Ashes Test begins in Brisbane on 21 November.
Graeme Swann and James Anderson will be presenting Not Just Cricket on 5 Live on Sunday, 17 November.