Ashes 2013-14: Michael Clarke won't change attacking style
Last updated on .From the section Cricket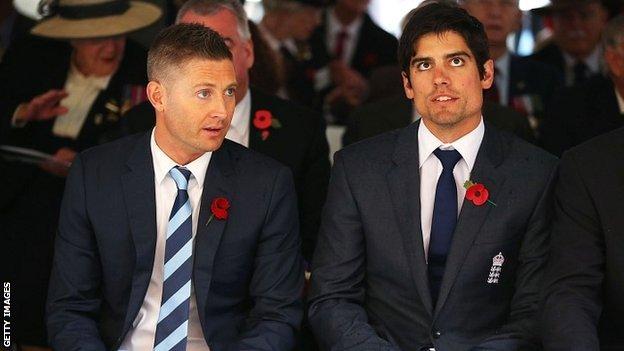 Australia captain Michael Clarke says he will not become more "negative" or "pragmatic" to get results in the forthcoming Ashes series.
England skipper Alastair Cook was criticised by former Australia spinner Shane Warne for winning the summer series with a "boring" approach.
But asked if he would follow a similar plan, Clarke, 32, said: "I hope not - because if that's the case, they've got the wrong guy being captain.
"I don't have that negativity in me."
England won their third consecutive Ashes series after victories at Trent Bridge, Lord's and Chester-le-Street and draws at Old Trafford and the Oval in the summer.
But Australia coach Darren Lehmann has since described Cook's side as "dour", adding "at times I'd like to see [England's] over rates picked up".
Clarke, who said he is "fully fit" for the first Test in Brisbane on November 21 after a back injury, added: "I understand there are times and places where you need to put fielders on the boundary or need to be a little bit defensive throughout the game but that doesn't mean the mindset changes.
"I'll do everything I can to help our team win as many games of cricket as possible and sometimes you risk losing. The criticism comes with playing sport at the highest level and it certainly comes with being captain of the Australian cricket team."
One of the key moments in the summer series came when England batsman Stuart Broad decided not to walk in the first Test at Trent Bridge.
With the Test poised evenly on the third day, Broad stood his ground when umpire Aleem Dar failed to spot a thick edge to Clarke at slip.
Clarke bears no grudge towards Broad and expects a mutual respect between the two teams when the series begins.
"People walking or not walking is up to each individual and I would never have a go at anybody for not walking," Clarke said at the launch of his new book, chronicling the lost series in England.
"I don't hold anything against any player who doesn't walk. There are umpires there to do their job and make a decision."
He added: "I think the Australian public will be as they always are - extremely passionate about the game of cricket. They want to see Australia do well. I'm sure the English boys will cop some stick on the boundary like we do when we travel around the world.
"But one thing I know about the Australian public - they love seeing good competitive cricket and I think both teams are going to do their best to perform well and put on a great show. There is certainly mutual respect between both teams. On the field we always play tough but off the field should get on really well because of that mutual respect."