Sachin Tendulkar is greatest cricketer in history - Brian Lara
Last updated on .From the section Cricket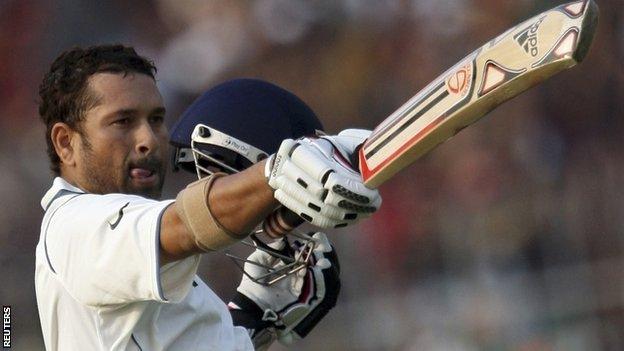 West Indies legend Brian Lara believes Sachin Tendulkar should be remembered as the greatest cricketer in history.
The Indian is the highest runscorer in international cricket, with 15,847 runs in 199 Tests and 18,426 runs in 463 one-day internationals.
"Tendulkar has had the greatest cricket career of anyone who has ever played the game," said Lara.
Lara, 44, and Tendulkar have similar records, with Lara averaging just under 53 in his 131 Tests and Tendulkar a fraction over 53.
Tendulkar, though, made his Test debut aged only 16 and will end his career having played 69 more matches than Lara.
Tendulkar last year became the only batsman in history to score 100 international centuries, and he will become the first man to play 200 Tests.
"The impact he has had on his game, his country, the rest of the world is incredible," added Lara, who scored 11,953 Test runs.
"His stats speak for themselves," continued Lara. "I don't think there is any 16-year-old who is going to embark on the sort of career that Sachin Tendulkar has had and walk away from the game at 40 with such great achievements.
"He's the Muhammad Ali and the Michael Jordan of cricket. You think of the great boxers and basketball players, but if you were to talk about the game then you would have to talk about Sachin."