Michael Carberry: Hampshire's Vince not surprised by form
Last updated on .From the section Cricket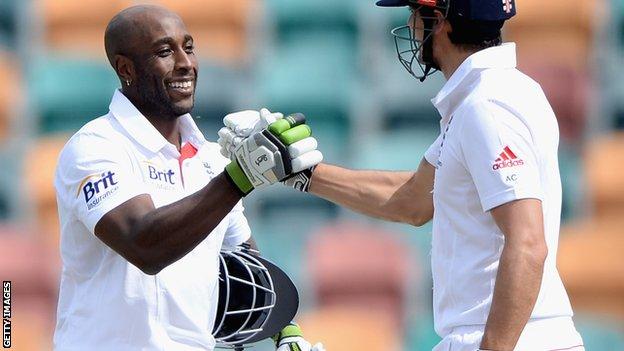 Hampshire's James Vince says he is not surprised by the form of county team-mate Michael Carberry in Australia.
Vince is part of England's Performance Programme in Australia alongside Hampshire team-mate Danny Briggs, and is delighted for Carberry.
"To be honest, it does not really come as too much of a surprise," Vince told BBC Radio Solent.
Left-hander Carberry has scored an unbeaten 153 and 78 in his first two innings on the tour and is set to open the batting with Alastair Cook in Australia.
And Vince says his rise to prominence is an inspiration.
"He is more than good enough to play at that level and hopefully he will have a good series," said Vince.
"It does happen quickly. Even some of the guys in my age group such as Jos Buttler and Danny Briggs have got their chance and it only takes a couple of injuries or a really good spell of form and you can be given a go.
"So if you're in and around the system you can always be surprised with a call-up. I'll be looking to do the best I can to show I am ready."
Spinner Briggs added Carberry's success was reward for all his hard work over the past three years since recovering from a blood clot on his lung in 2010.
"It's a big thing for the county. He's got his two big scores and there is no one who deserves it more. Carbsy has worked so hard and hopefully he starts in that first Test and is successful throughout the tour.
"It is exciting times for him and all of us hope he can be successful."
Briggs, meanwhile, flies out to Australia for the EPP tour on Thursday as the only slow bowler after it was announced that the other spinner in the squad, Simon Kerrigan, would remain in England.
Lancashire bowler Kerrigan suffered a mauling at the hands of Australia in his first Test match and the last game of the summer Ashes series at the Oval, when he conceded over 50 runs in just eight overs, but Briggs sympathises with his rival.
"He's maybe sat down with Peter Moores at Lancashire and the ECB and decided what's best for him," he said. "The thing with the EPP programme is that it's quite individualised and it's all about you kicking on and improving.
"For Kerrigan that might be staying at home and having a break."