English domestic cricket to use 'Finn' no-ball law from 2014
Last updated on .From the section Cricket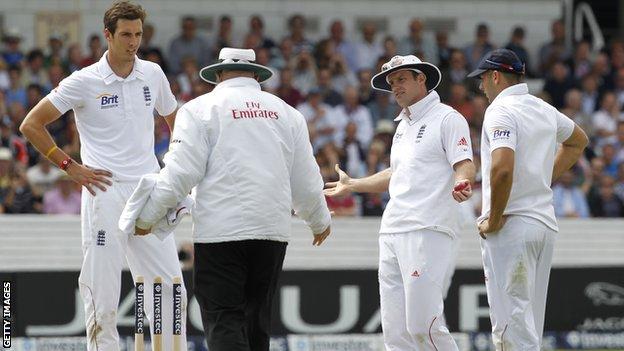 A bowler who breaks the stumps in their delivery stride will have bowled a no-ball under a new rule being applied to English domestic cricket next season.
Previously, a dead-ball was called when the bails at the non-striker's end were knocked off by a bowler.
The rule was changed from October 1 by Marylebone Cricket Club, which writes the laws of the game, after England's Steven Finn was repeatedly affected.
It was applied to internationals by the International Cricket Council in April.
Other changes being adopted by the England & Wales Cricket Board from 2014 include:
In the NatWest Twenty20 competition, the time allowed for the incoming batsman to be ready at the wicket will be reduced from 90 seconds to 60 seconds.

The introduction of a Super Over in all tied NatWest T20 matches - including for the first time in the group stages of the competition.

In the County Championship an extra two points will be available for a draw in order to provide greater reward for hard-fought draws and matches where bad weather has affected the outcome. This will mean five points in total for a draw, 16 for a win. Bonus points remain unchanged.

Alternative colours to white may be used as crease markings from next season - subject to successful trials. This change is designed to make crease markings easier to see for both spectators and TV viewers.

One-day international playing conditions will be replicated in the Royal London One-Day Cup wherever possible and two new balls will be used.