Simmons confident on Ireland's World Twenty20 prospects
Last updated on .From the section Cricket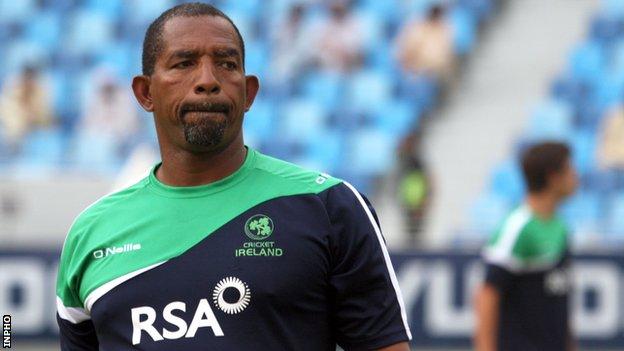 Phil Simmons is confident he can carry on his excellent run of guiding Ireland to major tournaments when the World Twenty20 qualifiers start on Friday.
Ireland have reached the last stages of the five qualifying tournaments they have played during the experienced West Indian's reign as Irish coach.
They are one of 16 teams competing for six places at the 2014 World T20.
"We have a lot of experience with the guys having accumulated a lot of caps over the years," said the 50-year-old.
"That is a fantastic asset to have as a coach, especially in the pressure cooker of qualifying competitions.
"The players have always risen to the occasion and I have no doubt that will be the case again over the next two weeks.
"We have quality throughout the ranks, and in Paul Stirling and Kevin O'Brien we have two of the most explosive batsmen in world cricket.
"Following the last T20 competition, I compared Stirling to Chris Gayle and Virender Sehwag - he really is that special.
"Kevin has found himself to be very much in demand on the T20 circuit with appearances in England, Bangladesh and the West Indies. He is also bowling exceptionally well at the minute and that gives [captain] William Porterfield another option."
Ireland start a run of seven group-stage matches in 10 days against Namibia in Abu Dhabi on Friday, and the target is to be one of the six countries to go through to the World T20 finals being hosted by Bangladesh in March.
One major advantage they have over most of their rivals at the tournament is the fact that the majority of their squad are full-time professional cricketers - seven being based with English counties, supplemented by those on full-time Cricket Ireland contracts.
Simmons, now a veteran of 188 games as Irish coach, agrees that could be vital as the intensity of the competition means sides fitness will be tested.
"During the tournament here last year we got stronger as the games went on while other sides wilted," said Simmons.
"The guys train incredibly hard and will manage and monitor everyone throughout. If we have to use our entire squad then that won't be a problem. We have got strength, quality and depth throughout."