Mark Robinson: England Lions role excites Sussex coach
Last updated on .From the section Cricket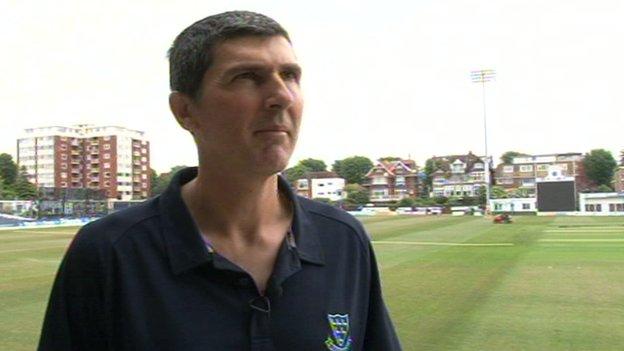 Sussex cricket manager Mark Robinson hopes his forthcoming role as the England Lions head coach will lead to him getting a major international job.
"I am ambitious like all players are and like most people are ambitious," he told BBC Radio Humberside.
"I am ever so happy in the role I have got at Sussex but if I wanted to do something else down the line, having this on my CV can only be good."
Hull-born Robinson added: "To be part of the England set-up and gain some international experience helps for my own ambitions of being an international coach, if I am ever so lucky.
"There are certain things I didn't have on the CV as a player and one was international experience."
Robinson, who took on his role at Sussex in 2005, has previously taken charge of the England Under-19 side.
He believes the experience of coaching the Lions will benefit him and allow him to pick up new skills
"It's something I enjoy and it is a great stimulus for me," he said.
"Any time you do something away from your natural environment you get challenged and you are out of your comfort zone.
"You grow as a person and hopefully as a coach.
"At the very least that is something that should happen."
With the touring party set to be named towards the end of December, Robinson is eager to aid the development of the players.
"The players have somebody who is experienced in managing emotions and results, which is different to the role of a specialist coach who is more driven by technique and the shorter needs," he said.
"England carry a good support staff and we will take some coaches with us who have particularly responsibilities for each of the disciplines.
"My role is to manage the support staff and the players and give direction and strategies for the games."
Robinson will be in the sub-continent with England Lions between 27 January and 2 March. However he does not believe Sussex's preparations for the new campaign will be adversely affected by his absence at Hove.
Coaches Mark Davis and Carl Hopkinson, following his involvement with the England Under-19 side at the World Cup, will take charge while the club have also recently recruited Jason Swift as a coach-analyst.
"It falls quite well as we take a group of Sussex players on a performance training camp to South Africa," Robinson said.
"That will go ahead and be led by one of the other coaches anyway.
"It is my job as head coach to make sure everything is covered here and no stone left is unturned as we look to have a successful season in our own right."