Jon Lewis: Gloucestershire budget hinders deal for bowler
Last updated on .From the section Cricket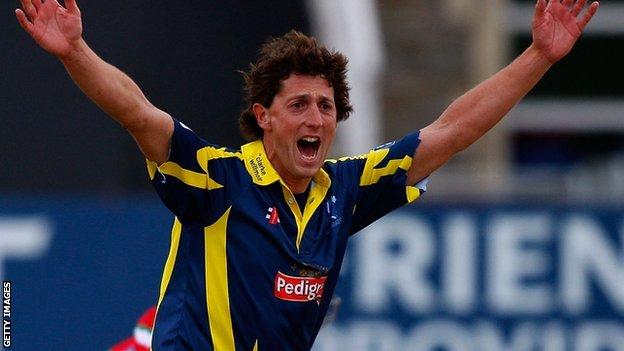 Gloucestershire failed to re-sign bowler Jon Lewis because of budget restrictions, according director of cricket John Bracewell.
The 38-year-old was released in the summer and, despite Gloucestershire's attempts to bring him back to Bristol, he has now signed for Sussex.
"Quite simply, the club couldn't afford Jon Lewis," Bracewell told the club's official website.
"We had worked out what was a very reasonable price for his services as a senior bowler, a mentor and developing coach.
"Jon always said he would like to come back here one day and help with our young players, so we saw it as a great opportunity.
"Unfortunately, we are not in a financial position to employ him."
Gloucestershire have been working on a tight budget for several years, with their financial focus on rebuilding their ground, and have relied heavily on developing youth players.
"It's a shame because it would have been an ideal fit for us," continued Bracewell. "But the financial situation is unlikely to change in the short term.
"My priority within the budget I was given was to make sure I secured our best young players on long-term deals.
"We have invested a lot in them, right through our academy in some cases. Most of my budget has gone in extending the contracts of players we feel can forge a successful future.
"The next priority is to try and get them as much help as possible."
Medium-pacer Lewis won a Test cap for England against Sri Lanka in 2006, and also played in 13 one-day internationals and two Twenty20 matches for the national team.
In his time at Gloucestershire, he played 218 first-class matches and took 771 wickets.