Ashes 2013-14: Where will the series be won and lost?

By Simon Hughes
'The Analyst' & BBC Test Match Special commentator
Last updated on .From the section Cricket240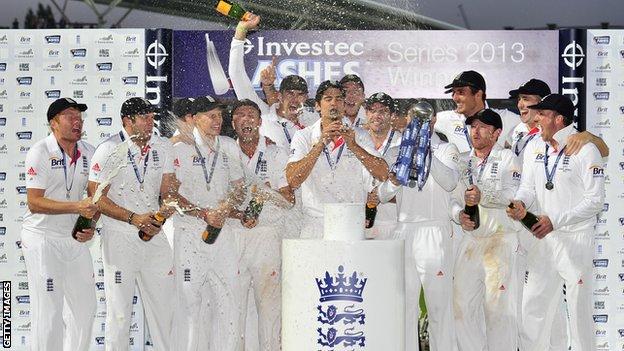 England begin the Ashes series in Australia this week as firm favourites to win the urn for a fourth time in succession.
Memories of their 3-0 victory this summer will still be fresh in the England players' memories, while Australia have tasted victory in only two of the last 15 Tests between the sides.
Sir Ian Botham is predicting a 5-0 whitewash for England - but it will not be that straightforward.
Who will be the key players? What are the crucial battles? And where will the urn be heading?
England's top order too good to fail again
In Alastair Cook and Jonathan Trott, England possess two of the most reliable and prolific runscorers in Test cricket. Both endured disappointing home Ashes campaigns, but two poor series in a row is out of the question.
Cook has had time to overcome his technical hiccups, he will be happier on Australian pitches and, while he will not match his phenomenal achievements the last time England toured Australia, I expect the captain to score at least 400 runs.
An Ashes series down under is a tough baptism for any player, let alone one who has played a solitary Test beforehand, but Michael Carberry, who will replace Joe Root at the top of the order, is more than capable of handling it. He has played plenty of domestic cricket and has a sound technique.
Australia found a weakness in Trott at number three in the summer - mainly against the short ball - and he was also let down by some uncharacteristically frantic batting. He just needs to relax and do what has served him so well during the majority of his career.
Negotiating the new ball will be key because England cannot afford as many poor starts as they did at home. Plus, if Kevin Pietersen, at number four, gets in against the old ball, he scores so quickly he can change the momentum of a game - and the series.

Australia's soft centre
If England possess a stronger top three than Australia, the disparities between the middle orders are even more marked.
Pietersen, the best player on either side, and Ian Bell, a fantastic batsman who touched new heights last summer, are the core of a formidable England middle order also containing Matt Prior - Test batting average 42 - and the promising yet unproven Root.
Contrast that with Australia, who are dependent almost entirely on skipper Michael Clarke. He is comfortably the hosts' best player and his record is among the finest in the game.
However, he has a definite problem against the short ball. He doesn't duck because of a persistent back injury, he is then less likely to get forward to those deliveries that are pitched up, and his footwork, which is normally his strength, suffers as a result. He particularly struggles against taller pace bowlers, and England have no shortage of them.
Alongside Clarke, I have major concerns over Steve Smith, whose poor technique cannot help but leave him exposed to the moving ball, and the uncapped George Bailey, a decent cricketer but a total unknown at this level. Brad Haddin, the Australia wicketkeeper, is no match for opposite number Prior with the bat or the gloves.
Leaders of the attack
James Anderson and Ryan Harris are the best bowlers on each side, and how they perform will be crucial to the way the series pans out.
Anderson is peerless. He is, in effect, three bowlers in one: he takes wickets with the new ball, reverse-swings the old ball and is a master against left-handers.
Although widely regarded as one of the finest swing bowlers of his generation, at 31 Anderson has probably just peaked. He showed signs over the summer of time catching up with him, and, if he breaks down, England will sorely miss him. How he fares against Australia number three Shane Watson should decide a lot.
His 24 wickets on the last Ashes tour - nine more than the best Australia bowler - were central to England's triumph. While I can see him being very good once again, I doubt he will repeat that.
Harris is a very good bowler with many qualities: he hates batsmen; he senses their weaknesses; he does a bit with the ball; he has that Australian hardness about him; he keeps coming at you all day. But his body is a worry - he had never played four Tests in a row before this summer - so I would be very surprised if he played the full series.
Mitchell Johnson v himself
Match-winner or laughing stock? Mitchell Johnson - the Barmy Army's favourite target - has veered between two extremes during his fitful Test career, yet his importance to Australia's hopes cannot be overestimated.
Batsmen do not face many 90mph bowlers these days, and left-armer Johnson is one of them. If he gets it right he will be an extremely difficult proposition - as he showed at Perth on England's last Ashes tour.
That remains a big 'if', because he is very much a confidence bowler. I suspect even the Australia selectors will not know which Johnson will turn up in Brisbane, although he is certainly talking a good game.
The ability to bring the ball back into the right-hander is his key weapon. Trott does not like facing left-arm seamers for that reason, and Johnson will be the guy who causes him the most problems. Ditto Pietersen, another batsman who plays around his front pad. Those duels will be very exciting.
The tactical battle
In Cook and Clarke, we saw two very different captains in action this summer. While Cook tends to favour caution over adventure, that suits the way England play: they have their plans and they stick to them for as long as they can.
Critics - Shane Warne the most vociferous among them - say Cook should attack more, but he is well respected by his players and he has the confidence of having captained an Ashes-winning side barely two months ago. That is hugely important.
Clarke, on the other hand, has been widely praised for his leadership, whether it be attacking declarations or funky field settings. For all that he is enjoyable to watch, I still see him as a gimmicky captain who does some of it for show. Ultimately, he has not got the results - Australia have not won a Test in 2013.
While the skippers direct matters on the field, the coaches and backroom staff will play a pivotal role off it. Australia coach Darren Lehmann, still relatively new to the job, is an old-school operator, and the players will enjoy having him around because he is like one of the lads.
Although he was a fine player and he knows the game well, Test cricket is about discipline as much as creativity - and that is where England team director Andy Flower scores very highly.
From a coaching perspective, he never stands still. He has an incredible desire to improve, pushing his players himself to greater heights. He will be especially motivated for this series because I have a feeling it may be his last in charge. He will want to go out on a high.
That is why Flower is one step ahead of Lehmann - and why England will be one step ahead of Australia this series.