Ashes 2013-14: England batsmen must deliver - Alec Stewart

By Alec Stewart
Ex-England captain & Test Match Special summariser
Last updated on .From the section Cricket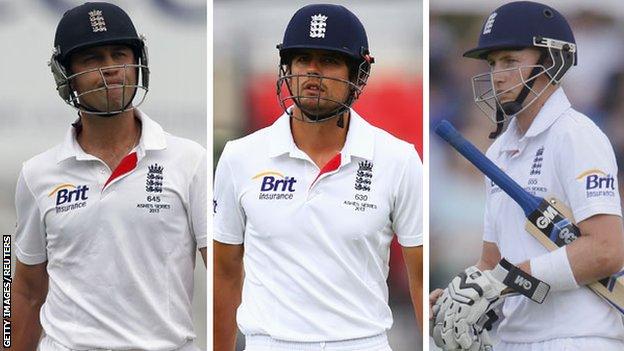 These are the days you dream of as an international cricketer.
Walking out to play for your country in an Ashes Test makes all the sacrifices you've made to play the sport at the highest level worthwhile.
As ever with an Ashes contest, the build-up has been more intense than before any other series. Words have been exchanged, articles written and there has been plenty of flak flying in the direction of the England team from the Aussie press, players and fans alike.
But now the time for talking is over. It is essential England's cricketers overcome any pre-match nerves and are able to show off the talents that we all know they have.
They simply cannot afford to be slow out of the blocks because the result at the Gabba could hold the key to the whole series.
If England leave Brisbane with a win or a draw I think they will go on to win the series quite convincingly.
Should things go wrong - and I'm not expecting them to - it could then be hard work, as it would allow Australia to gain confidence and momentum going into the second Test in Adelaide followed by the third in Perth, where they have beaten England six times in a row.
For the tourists to be successful, it is essential their batsmen perform collectively to a higher standard than they have done of late.
In their 10 Tests so far in 2013, England have only once posted a first innings score in excess of 400, and that was back in Wellington in March. It is an unacceptable record for a batting line-up of their quality and has resulted too often in the bowlers being required to get them over the line.
In England, where conditions and pitches often favour the bowlers, a score of 300 or 350 can sometimes be enough to take control of the match, but in Australia the minimum first innings score is 400.
The responsibility lies with the batting group as a whole. They can't simply rely on Ian Bell to bail them out by replicating what he did last summer, and they can't simply assume that Cook will rediscover his sensational form of the 2010-11 Ashes.
England's batting line-up is packed with quality - in Cook, Jonathan Trott, Kevin Pietersen and Bell they have four players that would walk into most Test sides - but they need to transfer that form from the teamsheet out to the middle.
If England's batsmen can lay solid foundations, it will take the pressure off their bowling attack.
In an ideal world, at least one of the three tall pacemen vying for the third seamer's berth alongside James Anderson and Stuart Broad would have stuck their hand up and demanded to be picked.
For various reasons, including the indifferent weather, that hasn't happened and it looks as though Chris Tremlett will get the nod despite only taking one wicket in the two warm-up games he played.
For me, this is still the right call.
I have no doubt Steven Finn will become a key bowler for England in Test cricket, and in time may even end up being the leader of the attack, but he is still learning his game. He has tinkered with his run-up and action in recent times and is still striving for a level of consistently.
Tremlett, however, can take confidence from his huge contribution to England's historic triumph in 2010-11. He understands his own game more than Finn or Boyd Rankin, which means he is less likely to need the back-up of a strong performance in the warm-up matches to find his very best form in the Test arena.
He is not express-pace, but gets steep bounce, hits the stickers of the bat and can be a real handful to face.
Meanwhile, the Aussie media seem to be talking as if Australia are going to be a vastly improved side from the one that lost 3-0 in the summer, but I'm yet to see any evidence to support that view.
They certainly look a more settled unit now that coach Darren Lehmann has had time to establish himself, but there is no guarantee their performances will be any better.
The hosts have certainly talked a good game, but can they now back up their words with deeds?
If they can, we will have a closer fought series - but I'm still expecting England to keep hold of the little urn.