Lancashire captain Glen Chapple planning coaching career
Last updated on .From the section Cricket
Lancashire captain Glen Chapple says he is planning to go into coaching after his playing career ends.
Veteran seamer Chapple, 39, recently completed his coaching qualifications.
The Lancashire squad are now back in training and Chapple, who is recovering from an ankle injury, has been helping head coach Peter Moores.
"Over the last few years, my interest in coaching has increased hugely. From not thinking it was the avenue to go down, I now believe it is," he said.
"It's good to get the time to do that. I'm on a programme where I'm just resting my ankle.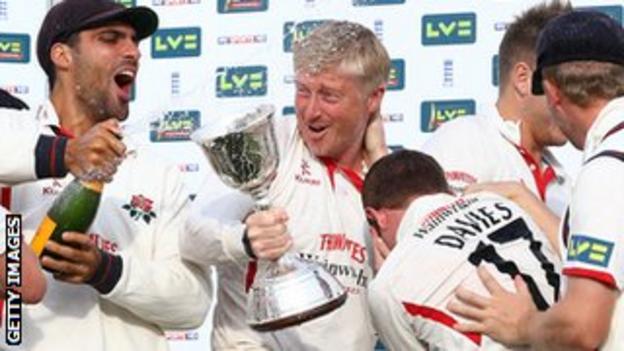 "I'm in the gym doing weight training and my cricket will probably start at the end of December. That frees up my time to help a little bit and get a different perspective on the squad."
Chapple, who in September, added on BBC Radio Manchester: "You use your time as efficiently as you can do. I'm employed by the club to do well for them on the field. If there are times where my playing is limited, if I can help in any way, that's great.
"It also gives me some experience of coaching. Ultimately my job is to help the team be as good as they can be and, whatever you can do to do that, you get on with it."
Chapple turns 40 in January but as they return to the top flight.
"The squad's strong and ambitious," said Chapple, who is closing in on the milestone of 1,000 first-class wickets.
"There are good numbers and a good age range. We should be strong. There are a couple of areas to tie up, like but there's no reason we shouldn't have full belief in our potential and what we can achieve."