Ashes 2013-14: Australia plot undercooked England's demise

By Tom Fordyce
Chief sports writer
Last updated on .From the section Cricket267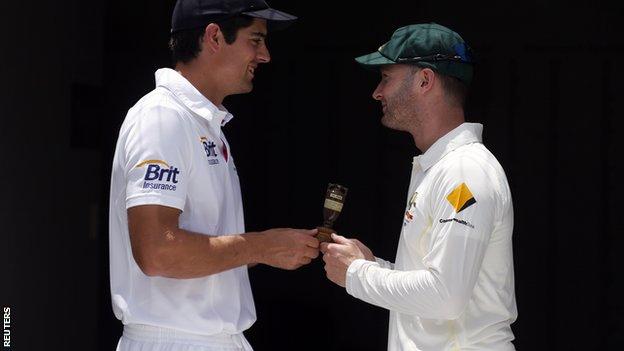 The first thing you notice on arriving in the Australian summer from an English winter is the light: sharp, unrelenting, rebounding off every surface.
The next is the colour - bright greens, unbroken blues. Then there is the prevailing mood: bullish, aggressive, at the same time both welcoming and decidedly punchy.
For a nation that has lost the past three Ashes series by a combined margin of eight wins to two, Australia seems remarkably chipper about its chances this time around.
It's been in the newspapers all week (sample headline: "Stuart Fraud"), in the preferred stats being bandied around (undefeated in Gabba Tests in a quarter of a century) and down at the ground itself, where a large billboard features key members of the current team photographed stony-faced and covered in grime, as if they have been incubating in an underground bunker, plotting England's demise like the leaders of some heroic resistance movement.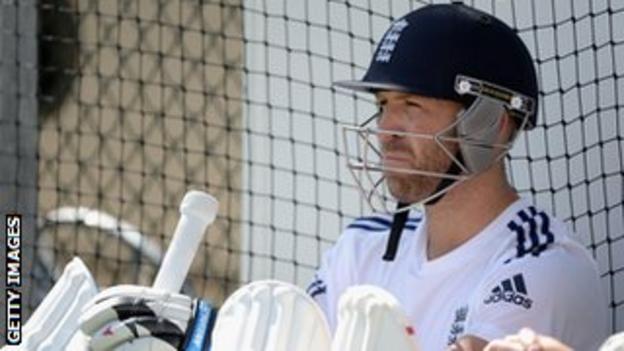 The burgeoning belief is not entirely misplaced. Compared to the last time they were here, when they arrived off the back of three decisive wins, England have rolled into Brisbane both undercooked and unsure of their best XI, softened up by slow pitches and inexperienced attacks in the tour matches so far.
Matt Prior, after 57 consecutive Tests behind the timbers, remains an injury doubt. His replacement Jonny Bairstow has never before kept wicket at this level.
Likely third seamer Chris Tremlett, he of 17 wickets in three matches in the last Ashes series down under, has taken just one wicket in the warm-up matches on this one.
Yet in the demeanour of the respective captains at their final news conferences on Wednesday could be read a rather different tale.
Michael Clarke, usually chirpy, seemed tense and chippy. Alastair Cook, sometimes withdrawn, was calmness personified.
Cook has been here before, both figuratively and literally. No longer can this ground be called the Gabbatoir, not since Cook's double-century and England's 517-1 three years ago.
Eight of England's likely starting XI played in that corresponding Test. While previous English touring sides knew nothing but defeat on Australian soil, 11 of this squad played their part in the triumphant 3-1 thrashing in 2010-11. All three of those victories were by an innings.
And Clarke? Clarke knows that, for all the big words in this pre-match phoney war, his side remain a team of improvers rather than achievers.
Of their past nine Tests they have lost seven and drawn two. They have won just one Ashes Test in the past four and a half years; in the same period, England have won seven.
Hence the need to build up the menace of Mitchell Johnson, recalled in reality only because of injuries to others but talked up in the past few days as if his match figures of 0-170 at the Gabba three years ago were an aberration rather than a forecast for his displays in all series.
Johnson has certainly impressed in one-day cricket over the past year. He may yet suddenly clunk into alignment, and ally his indisputable pace with less characteristic accuracy.
At his best - 90mph, swinging it back into right-handers - he can put the giddy shivers up the most secure of batsmen.
But performing in long spells on unhelpful pitches against experienced opposition is another thing entirely, just as new number six George Bailey's dashing displays in the shorter form of the game do not guarantee that he will make the same impact on his Test bow.
Shane Watson, still recovering from a hamstring tear, is unlikely to be able to bowl his usual amount of overs.
Ryan Harris, excellent last summer, has never before survived a five-Test series without succumbing to injury.
Then there are the stakes.
Just as Ian Bell and Kevin Pietersen have now finished on the winning side in four Ashes series, so Clarke - the third survivor of that unforgettable series of 2005 - could now find himself on the losing side in five.
England, having failed to win a series down under in 24 years, could come out on top in four successive Ashes contests for the first time since the days when WG Grace stopped shaving.
Hence the big push around this opening Test. Clarke's side need momentum.
They need the Aussie public to believe in them and the Aussie media to stay on their side.
Win at the Gabba, goes the best-case scenario, and they could set up the series.
With the second Test in Adelaide on a drop-in pitch, likely to be flat and lifeless, and the third at Perth, where England lose with habitual incompetence, they could go to Melbourne for Christmas with the precious gift of a 2-0 lead.
Should Clarke's men instead display the same fallibility under pressure as they did in the 3-0 series defeat last summer, when their batting collapsed with the sort of speed and regularity that once defined and maligned their opposition, then they will need miracles, for all the damage Harris and his cohorts can do with the ball.
England have more Test runs in their side and many more Test wickets. They have the most destructive batsman on either side (Pietersen), the man in form (Bell), the superior spinner (Swann) and in Jimmy Anderson a pace bowler as effective reverse-swinging the old ball as he is dangerous with the new one.
Cook's team will need to come out of the traps faster than they have of recent habit.
Not since the tour of South Africa in 2004-5 have England won the first match of a Test series abroad, tearing perennial punching-bags Bangladesh apart.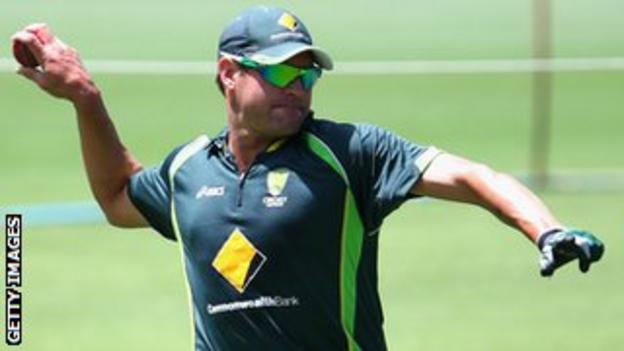 They will also need to replicate the batting displays of three years ago rather than the summer just gone.
In 2010-11 Australia were ground down by the sheer weight of English runs: 517-1 at the Gabba, 620 in Adelaide, 513 at the MCG, 644 in Sydney. In the series just gone they failed to pass 400 a single time in 10 attempts.
Cook appears confident his chosen few will get it right. This is a side, he made it clear on Wednesday, that has a track record of succeeding where many could not - winning a Test series in India, making it to number one in the world rankings.
We shall see. After 136 years of Tests between these two great rivals, the overall balance is perfect: 31 Ashes series wins apiece.
As if further motivation was required by any player or spectator involved.