India v West Indies: Opener Chris Gayle tears hamstring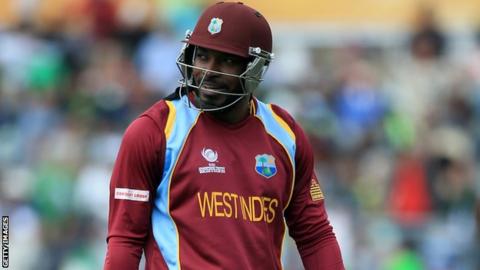 West Indies batsman Chris Gayle will miss the rest of the tour of India after tearing his hamstring.
The 34-year-old suffered the injury when he was run out chasing a single after the second ball of the innings and left the field on a stretcher.
India won the first of three one-day internationals by six wickets after chasing 211 with 88 balls to spare.
"Losing Chris is the worst to happen to us on the tour. He is our best player," said captain Dwayne Bravo.
"He is no longer available for the series and that is a big blow for us.
"Psychologically, also it is not good for us. Before we landed in India, we lost Kieron Pollard and now we lost Chris and they are two of our best players."
The two sides meet in the second one-day international in Visakhapatnam on Sunday.
Gayle has been ruled out for 'two to four' weeks by Indian orthopedic surgeon Dr Bipin Theruvil, so could also miss the start of the West Indies Test series with New Zealand, which begins on 3 December in Dunedin.