Ashes 2013-14 catch-up: Australia v England, first Test, day two
Last updated on .From the section Cricket
The day in 50 words
Early doors going well. England 82-2. But Mitchell Johnson was fast. Very fast. 90+ mph. Wickets followed - six for nine in 53 minutes. Collapse of all England collapses.
Weary England supporters rubbed eyes. Aussies loved it. KP was mocked.
Australia's lead? 224 runs. Three days left. England facing defeat.
Full day two report from Brisbane
Slaughter at the Gabbatoir
England lost six wickets for nine runs in 53 minutes. Here's how:
13:42 (local time) - 82-3: Kevin Pietersen clips Ryan Harris to midwicket. Tame.
14:09 - 87-4: Welcome to Ashes cricket! Michael Carberry fends a vicious delivery from Johnson to second slip.
14:15 - 87-5: Ian Bell, player of the series in the summer, guides Nathan Lyon to short-leg.
14:18 - 87-6: Matt Prior goes for a second golden duck - edging Lyon into the hands of a busy short-leg.
14:25 - 89-7: Joe Root steers an attempted drive into the slips off Johnson.
14:35 - 91-8: Another gone. Swann caught bat-pad off Johnson. Dismal.
Listen to Test Match Special highlights and commentary clips
Man of the day
He bowls to the left, he bowls to the right. That Mitchell Johnson ruined England's night!
Fast, hostile and deadly accurate - England couldn't cope. A match-winning performance from a much-maligned player.
Pint-sized Ashes: A two-minute round-up of the day
Stats of the day
This was England's worst collapse since Melbourne in 1990, when they lost six wickets for three runs. It was only the fifth time they have lost six wickets for fewer than 10 runs.

England have not enjoyed an opening partnership of more than 50 in the first innings of their last 14 series openers. Their average is 21.

On each of their last five overseas tours, England have been bowled out for less than 200 in their first innings of the series.

Steve Smith took three catches (Bell, Prior, Root) in nine balls.
What they said
England batsman Michael Carberry: "I think the batsmen obviously feel a little down about the session but the feeling in the dressing room is still pretty positive. We know there's still three days to go in the game so we're not totally out of it yet, so we'll come out tomorrow hot."
Australia wicketkeeper Brad Haddin: "It was obviously a tough day but we had to earn the right to get those wickets in the middle session and I think we built some good pressure up leading into that wonderful hour-and-a-half in the afternoon. There was a plan to go short, especially when the tail came in and we might as well use guys like Mitchell Johnson who do have that extra bit of pace."
The expert view
Former England batsman Geoffrey Boycott: "It's been decent bowling by Australia, but the batting has been pathetic. They've played some poor shots. The problem is we've seen it all before. It's very sad to see them almost give away the Test match like this. It will take a dramatic performance to bowl Australia out and then produce a batting display with no mistakes. They've just about gifted the match to Australia."
Ex-Australia fast bowler Glenn McGrath: "Mitchell Johnson bowled aggressively, he bowled with good pace and really stuck it up the English batsmen, really got into them, got into Trott. He only bowled three balls to Carberry from around the wicket, but looked menacing and then he got stuck into the tail. That is probably as fast and as aggressive bowling spell I have seen for a long time."
Former England captain Michael Vaughan: "You can put collapses into perspective - if England had been bowled out by the 1980s West Indians, Warne and McGrath or Wasim and Waqar you have to say well done to the opposition. But in all of these collapses of the last two years, I don't think England have been done by unbelievable bowling."
Listen to Jonathan Agnew and Geoff Boycott's review of the day on the TMS podcast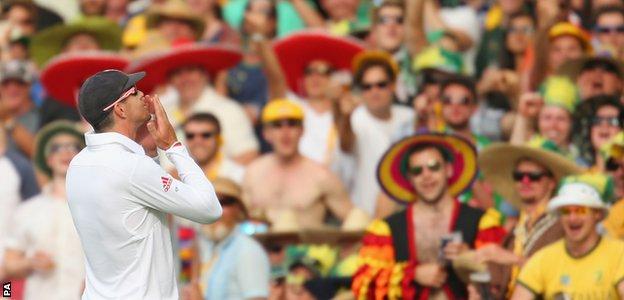 KP embarrassed
A cheeky Australian supporter left Kevin Pietersen red-faced when he beckoned the England batsman for an autograph while he was fielding, before withdrawing his pen and miniature bat to raucous laughter from the thousands of gleeful Australians sat around him. It just wasn't England's day - and the Aussies loved it.
The Twitterati
Ex-England all-rounder Andrew Flintoff: I bet none of the England players took a newspaper into the press conference today! Don't mess with the game, it always wins!
Australia bowler Mitchell Starc: Outstanding day of cricket Australia! Great job from the bowlers and opening sticks.
Ex-England opener Mark Butcher: That's the sort of batting collapse that will cost a bowler his place in the next Test...
BBC Match of the Day presenter Gary Lineker: Before Michael Carberry, who was the last England opener to bat with an earring? Doubt it was Geoffrey Boycott.
And here's how readers of the BBC cricket live text reacted to England's collapse:
James Ash: My time machine worked! Although I'm not sure whether I'm in 2006 or 2002.
Ian Vickery: Poor bowlers - let down by the inept England batsmen! Shameful display - no way back now! England heads are down.
And finally...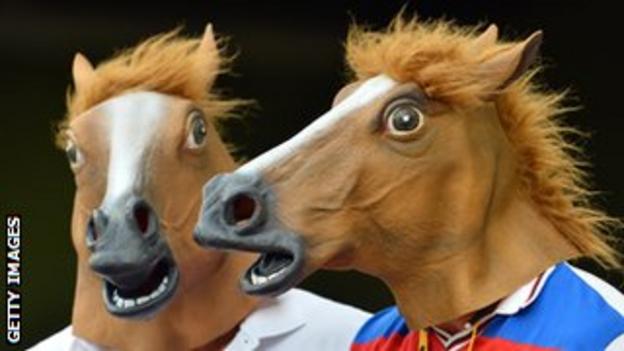 A man has been charged with animal cruelty after police stopped a spectator from releasing a pig onto the field at Brisbane during day one of the first Test on Thursday. The pig, whose name is Ash, was taken to the RSPCA to be treated for dehydration. In the 1982-83 series, another pig was smuggled into the Gabba with (Ian) "Botham" and "Eddie" (Hemmings) daubed onto its sides, and released onto the pitch.