Ashes 2013-14: Mitchell Johnson's transformation into Australian hero

By Tom Fordyce
Chief sports writer
Last updated on .From the section Cricket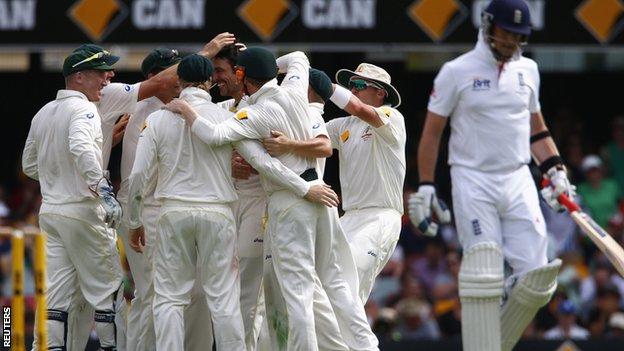 These days were supposed to be consigned to the history books and screaming nightmares: a fire-breathing Australia attack, rampant; an England team collapsing like an over-extended beer snake to end a dizzy day in the gutter.
Instead, the Gabba on the second day of this first Test was a time-machine taking England back to the dark ages, the days of weeping and gnashing of teeth, the mornings of waking up back in Blighty to wish you hadn't bothered.
For make no mistake, this was an old-fashioned butchering at the Gabbatoir. In the space of 53 dismal mid-afternoon minutes, England lost six prime wickets for nine runs.
In one five-over spell they lost five wickets for four. From a position of comfort at 82-2 they were blasted out for just 136, with an old ball, on a pitch devoid of terrors, to concede a probably pivotal first-innings deficit of 159.
It was only the fifth time in Test history that England have lost six wickets for less than 10 runs. Not since six men went down for three runs on that ghastly Melbourne day in 1990 have they lost so many so cheaply. Gabba-dabba-doh indeed.
At the heart of it all, Movember 'tache twitching and black hair bouncing like Dennis Lillee reborn, was Mitchell Johnson, a figure of fun three years ago, a bowler lacking direction even a few minutes before.
Johnson's first three overs went for 15. His first six went for 32, often a long way down leg-side. But in his third spell, from round the wicket, he was transformed - roaring in, frightening batsman, cartoon clown to dark destroyer.
In 13 often unplayable balls, he took three wickets for two runs. Allied to the accuracy and pace of Ryan Harris at the other end, it flipped the match on its backside.
"That's the best spell of fast bowling I've seen in a long while," says Glenn McGrath, for so long the cruel torturer of English batsmen.
"You want to show the batsman that you don't want them out there. You're bowling to hit. You're bowling to intimidate. Mitchell did exactly that."
Why the dramatic improvement in that third spell? Why the sudden shift from 1-41 to 4-43?
"Johnson's been out of the Test arena for a while, and he's been a long time coming back," says McGrath, at the Gabba as an expert summariser for Test Match Special.
"You can think about it too much, because you want to bowl quick, but it can take a while to find your rhythm. Sometimes you can go looking for it, and then you go for a few runs.
"But he's a different bowler now. He has worked with Dennis Lillee, who has lengthened his run-up a little. That's unusual - most bowlers shorten theirs as they get older - but it means he isn't trying to run in too hard. He builds up to the crease a little better, and that means he can flow through his bowling action.
"As a bowler, when it clicks like that it just feels effortless. You're not worrying about your action any more, or where you're going to put the ball. You've got 10 other blokes all pumped up around you. Everything about it just feels easier."
In some ways it was classic Johnson. The one firm rule in his topsy-turvy career has been to expect the unexpected.
Johnson and inconsistency go together like surf and turf. In his last Test before this one he failed to take a wicket. Three years ago, his match figures of 0-170 here in Brisbane were followed by 9-82 in Perth, and then 2-134 in the following match in Melbourne.
"There were days when Mitch was as lethal a bowler as any in my experience," wrote his former skipper Ricky Ponting in his autobiography. "At other times, he was so frustratingly erratic and ineffective.
"For someone so talented, such a natural cricketer and so gifted an athlete, I found his lack of self-belief astonishing."
On Friday he believed. But what will concern Alastair Cook and his England team as much as this sudden tornado is that, while the magnitude of this collapse is unprecedented for this group of players, the problems in their batting are increasingly deep-rooted.
England haven't had an opening partnership of more than 50 in any first innings of a first Test in their past 14 series. They haven't made it past 400 in a single one of their last 17 innings.
In their last five away series, they have been bowled out for under 200 in every one of their first innings; in their last 14 away Test series, they have won the opening Test just once.
Each of the key batsmen, with the exception of Ian Bell, is struggling for form in a way that belies their long-term class.
Since the start of the Ashes series last summer, Cook is averaging 26, compared with a career average of 47. Jonathan Trott is going along at 27 compared with his overall 49.9; Kevin Pietersen 36 against 48.
For Matt Prior, named England's player of the year at the start of last summer, it is even unhealthier: an average of 16 in his last 11 innings, against a career average of 41.9. In the past year he has gone for a golden duck on three occasions.
Dig a little deeper. When they have come up against the best attacks in world cricket since the last Ashes tour down under, each has struggled.
Against Australia, South Africa and Pakistan in that period, Cook averages just 28, Trott 30, Pietersen 32.
Australia have plans for each. Here at Brisbane, they have worked, and for the remainder of the series, they will be wheeled out again.
Trott will continue to be peppered with short stuff aimed at his body. Ryan Harris will keep tempting Cook with full deliveries just outside off stump. Pietersen will be starved of scoring opportunities and attention.
Each is a good enough player to come up with solutions. Equally, Johnson will not bowl to this standard throughout the series; Harris has never made it unscathed through a five-Test series.
But they will be doing so, in all likelihood, with England behind in the series.
This was the dream scenario for Michael Clarke: surprise an undercooked opposition in Brisbane, come away with at least a draw on the expected lifeless drop-pitch in Adelaide, capitalise on England's habitual horrors in Perth where they have not won since 1978.
There is a long, long way to go in this Test series. Australia's own batting fault-lines have not healed. But in the space of 24 hours, their bowlers have given both team and nation fresh hope, and England fresh headaches.