Ashes 2013-14 - Australia v England: Ask Glenn McGrath
Last updated on .From the section Cricket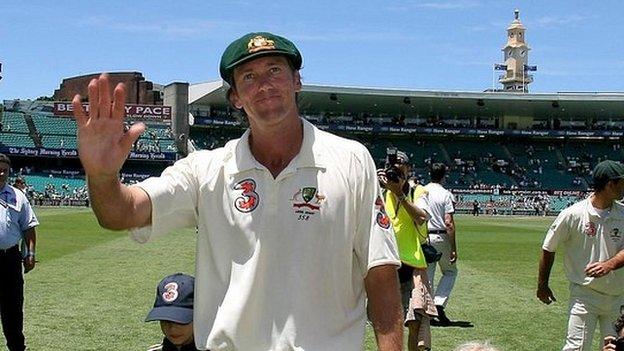 Former Australia fast bowler Glenn McGrath took part in a question and answer session during the lunch session on day three of the first Test at the Gabba.
Here are his answers on subjects ranging from Stuart Broad, treading on the ball at Edgbaston 2005, his record for consecutive ducks and his love of ice cream.
You can listen to the full Q&A on the BBC Test Match Special podcast.
Has the Australian media gone over the top with this Stuart Broad stuff?
"The English tabloids have been around for years and given everyone a hard time. I remember when they were waiting for us at the castle in Durham in 2005 and when we arrived, they sent out a topless lady and immediately took a load of photos of her with us before we knew what was going on.
"Hopefully what the Courier-Mail has been doing has been a bit of fun. Once they had started it, they couldn't stop. They would have looked soft. Broad should take it as a sign of respect that they are trying to intimidate him and put him off his game. I think he enjoys it."
Did you feel intimidated if a batsmen tried to hit you for boundaries?
"Never. The two times I was ever nervous - one was bowling to Lance Klusener in the semi-final of the 1999 world cup. The other one was batting with Shane Warne when he was in the nineties [and got out for 99].
"The good thing with being a bowler is that it doesn't matter how far you get hit, you've always got another ball. If a batsman hit me for four I always blamed myself."
Why can't all Test match bowlers manage control?
"If you had five or six Glenn McGrath type bowlers it would be pretty boring. That was my thing. I wasn't that quick but I had control and bounce. If you are as quick as Mitchell Johnson you inevitably lose a bit of control. Jimmy Anderson gets it to swing - you want bowlers to be different."
Do you ever wonder what might have happened if you hadn't trodden on that ball at Edgbaston?
"Well I certainly wouldn't have got my first big cheer in England!
"I don't deal in what-ifs. England played some great cricket in that series and deserved to win, but it was restored back in Australia when we got another opportunity. Ricky probably has nightmares about his decision to bowl first after I got injured but everyone was telling us to do that and we probably fell for it."
What's your record for consecutive ducks?
"I think in my Test career I got 35 of them. I hold the Australian record - one more than Shane Warne. I got golden ducks on my Test and one-day batting debuts, but someone told me that I have dismissed over 100 batsmen for ducks so these things even each other out."
Have you ever asked for a cricketer's autograph?
"The first game of cricket I ever saw Australia play was only a year before I played for them myself. I swapped shirts with Sachin and Lara, and in 2005 when we trained at Manchester United, I even swapped shirts with Ryan Giggs."
Who was harder to bowl at - Lara or Tendulkar?
"They are two of the standout players of this era and I enjoyed bowling to both of them because it was a challenge. I always felt Brian was more destructive. He didn't want to be tied down and you could use his ego against him. Sachin was a bit more reserved. I felt I could be a little bit more effective in cutting out his scoring opportunities. I got Brian out a lot more times."
Your Australian team or the West indies team of the 1970s and 1980s - which was better?
"It's tough to compare teams from different eras, but that West Indies team was awesome. They had four fast bowlers and there was no respite for the batsmen at all - they were putting their life on the line going out there.
"The one thing they lacked was a spinner and that is where Shane Warne would stand out in any team."
As a bowler, when you felt your batsmen had let you down, did you say something?
"There was always plenty of banter. We had the FBC - we called ourselves the Fast Bowlers Cartel. The batsmen were the Platinum Club - they would swan around and have lattes.
"But the team comes first. If we had a bad day I would stop and think 'what could I have done better to help the team today?'
You are all good mates at the end of the day and we came together to perform as well as we could in the middle."
How many ice-creams do you eat every day?
"I probably need to cut down. I have an Italian wife who is an incredible cook. I like to finish off my lunch with something sweet - chocolate is my favourite thing. It's not as easy to burn off when you are not bowling 25 overs a day."