Ashes 2013-14: Australia ruthlessly dismantle England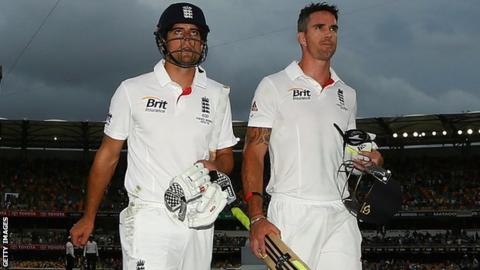 There are different ways you can try to summarise the misery inflicted on England on this third, endlessly chastening day of the first Test.
There are the numbers: an Australian lead of 561, a victory target 143 runs bigger than has ever been achieved by a team batting last in a Test, a minimum of 1098 balls to survive to even pull off a Brink's Mat robbery of a draw.
There is the incongruous: a Michael Clarke innings that was to end with his 25th Test century beginning with England deliberately giving him free singles.
And then there was the nadir: Jonathan Trott, scorer of that brilliant 168 not out at this ground three years ago, departing The Gabba outfield like a man stumbling away from a car crash after having both technique and temperament dismantled by a cackling, cavorting Mitchell Johnson.
Trott was once the scourge of Australian bowlers, averaging 86 against them before the start of the English summer. Now, in the cruellest possible fashion, he has been reduced to the level of a novice number 11, utterly unable to cope with their relatively simple plan of bowling short at his body - not so much a walking wicket as one on its knees.
This is what Test cricket can do to a man. A team sport decided almost entirely by one-on-one confrontations, it leaves the struggling individual exposed like few others.
Australia may as well have pelted him with eggs and pulled his pants down. It would hardly have been less humiliating.
In his 11 minutes at the crease he faced nine balls. Each one could have dismissed him. When he did finally go, pulling Johnson straight to Nathan Lyon at deep square leg to fall on his sword as effectively as if he had kicked his stumps over, there was almost relief, both for batsman and spectators.
Trott has fallen to left-arm pace bowlers 12 times this year. In that time he is averaging just 20 against them.
David Warner spoke afterwards of England having "scared eyes". Most of their supporters inside this stadium had theirs shut.
Almost everything Australia dreamed of happening in this series opener has come to pass. Their top order has runs. Their strike bowlers are rampant. Graeme Swann has been mangled, his side's lack of a quality third seamer brutally exposed. The flaws of at least three of England's top six laid bare for all to see.
Clarke had looked so moody and withdrawn in the build-up to this match that one Australian paper had compared him to Lou Reed. This was his perfect day.
At The Gabba Clarke has a Test average of 103 in 10 innings, with five centuries. Even Bradman cannot match that.
Why did England therefore choose to give him free runs? There was some logic to it: get him on strike to Stuart Broad, get him fending at the short stuff just as he did in the first innings and just as he would later do to Trott.
Like pretty much everything else England tried, it failed to work. In partnership with the equally aggressive David Warner, he first milked England's ineffective attack and then began to plunder. Transformer indeed.
Clarke in this sort of form is a purist's delight. While Warner was as content to biff as one would expect from a man with a bat branded 'Kaboom', Clarke could be both delicate and destructive, often in successive balls.
In one Swann over after lunch he and Warner scored every possible combination of runs from one to six. It was the least of the off-spinner's worries; one three-over spell went for 38 runs.
This was Australian batting the old-fashioned way - proactive, belligerent, the sort of stuff that Slater, Hayden, Ponting and Gilchrist and all the rest of them used to do to England series after painful series in the bad old days of Aussie ascendancy and English helplessness.
Clarke's 113 came off just 130 balls. Warner's 124 contained 13 fours and a straight six off Stuart Broad that was the batting equivalent of a finger in the face.
Swann - impotent, exhausted - would end with an unwanted century of his own. His figures in this match now read 2-215, not just poor compared to the supposedly inferior Nathan Lyon, but more costly than the 0-170 that Johnson famously shipped here three years ago.
That Clarke became his 250th Test wicket, making him the third fastest Englishman to that landmark after Ian Botham and Fred Trueman, was little consolation.
England need Swann to succeed if they are to have any hope of flourishing this winter. If he cannot take wickets he must tie up an end, so that pressure can build and the other three bowlers rest up. If he can do neither, the balance that has taken England so far in the last four years is fatally weakened.
History is not entirely against England in this match. Seven years ago, Queensland made 900-6 on this same ground.
But that is like hoping that the bloke who nicked your car is stopped in his tracks by a falling meteor. Rather than hope for miracles, England can only try to bloody a few noses as they slide down the ropes.
Fight hard, regroup, come out harder in Adelaide. Otherwise this could be a long and very painful seven weeks indeed.