Ashes 2013-2014: England's Alastair Cook faces biggest test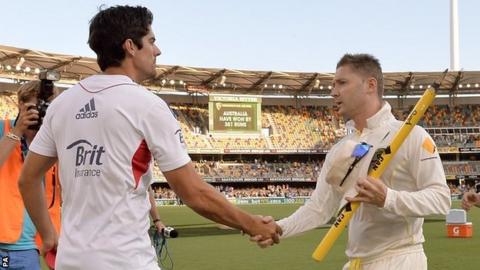 After seeing his side thrashed by 381 runs in the first Ashes Test against Australia, Alastair Cook is facing the biggest challenge of his short time as England captain.
Australia, beaten in the last three Ashes series and without a Test win in their previous nine matches, are out to inflict damage on England and they landed some serious blows in Brisbane.
The whole match was played out against a hostile background, in the media beforehand and then with a lot of sledging and nastiness in the middle. None of this is likely to go away and adds a further layer of intrigue to the manner in which England respond.
Cook can draw on the tour of India last year. There, in his first Test since being appointed captain, England were hammered in Ahmedabad but recovered to earn a first series win in India for 27 years.
From that defeat, England constructed a run of 13 unbeaten matches - but this feels different.
In that Ahmedabad match, England at least went down fighting - Cook himself scored a big hundred - but now you can go look at the entire England team and identify problems that urgently need addressing.
Jonathan Trott's struggles against the hostility of Mitchell Johnson are an obvious one, but Matt Prior averages only 15 in his last eight Tests and Graeme Swann was both ineffective and expensive at the Gabba.
Is a two-day tour match against a Chairman's XI in Alice Springs ideal preparation for the second Test in Adelaide on 5 December? It isn't, but it's what England have got.
They have decisions to make for the game against an inexperienced team in the heat of the Northern Territory.
For example, is it best for Trott to play there or to go and spend some time in the nets in Adelaide?
You could argue that scoring runs and spending time in the middle is the best medicine, but he scored a hundred against Western Australia in the first warm-up game in Perth only to come to Brisbane and be undone by pace.
Would it not be better for him to spend some serious time in the nets, taking on some one-to-one coaching, de-cluttering his head and working out a way to play Johnson?
Johnson is not only terrorising Trott, he has the potential to be the difference between the two sides. He really has given England a fright at the Gabba.
England do not have the firepower to hit back with pace of their own, and if they have a plan for dealing with Johnson they are not executing it - continuing the theme of poor batting on their last five overseas tours.
In truth, Cook was prepared to admit England have problems in what was a very thoughtful post-match interview.
He acknowledged that Trott has an issue, which was very honest and in contrast to the usual platitudes that often accompany a defeat.
In recognising the problems, Cook has taken the first step towards solving them. He challenged more England players to stand up, which is quite right. We are about to find out if they are able.
Perhaps the shock of this result is compounded by the fact that we are not used to seeing England in this position against Australia. We have become accustomed to seeing them dominate.
It has totally rejuvenated Australian interest in the Ashes and, in that sense, has done wonders for the series. But, it has put a lot of pressure on England.