Ashes 2013-14: Australia vow silence over Jonathan Trott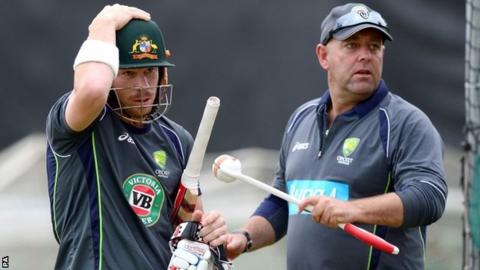 Australia say they will not use Jonathan Trott's illness as a sledging topic during the second Ashes Test.
England batsman Trott flew home on Monday with a stress-related condition following a first Test which featured several heated verbal exchanges.
"Obviously, we didn't know what was going on with Jonathan Trott," said Australia coach Darren Lehmann.
"That certainly won't be talked about in this Test match. We wish him all the best in his recovery."
The second Ashes Test begins in Adelaide on Thursday, 5 December.
Lehmann added: "We want to play that brand that is quite hard and aggressive, as we always talk about - but not cross the line, play it fair."
Trott scored only 19 runs in the series opener as England crumbled to a 381-run defeat inside four days at the Gabba in Brisbane.
Lehmann said Australia opener David Warner had been "dealt with" for describing Trott's performance as "poor and weak".
Warner was speaking at a post-play news conference before Trott's departure was announced, but has since admitted he went too far with his comments.
Lehmann said: "I have spoken to David, and we have dealt with that in-house.
"He understands where the line is. I think he said himself he crossed the line.
"We know where we can go to a certain extent. If you cross that line, obviously the ICC [International Cricket Council] take over - and Cricket Australia."
Australia have stuck with the same 12-man squad that won in Brisbane and plan to field seamer Ryan Harris despite concerns over his ability to last a five-match series.
Whoever takes part, Lehmann has warned Australia cannot begin to think the job is done at this early stage.
He added: "It's just one Test match, so we have got to play well, back that up and show we're the side we want to become - not just 'one-hit wonders', if you like.
"[We want to] play a brand of cricket that is strong, competitive - each and every day, each and every session - and if we do that, we know we will get the results.
"But we can't just rest on our laurels after one Test. They will come back really hard. We know England are a good cricket team."