Ashes 2013-14: England must make Pietersen decision - Agnew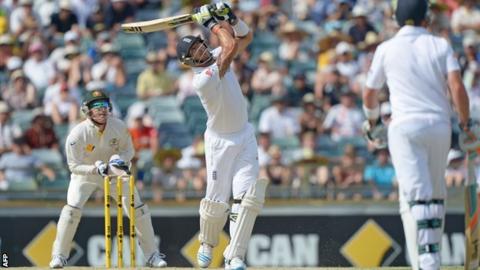 At 251-5 and chasing a notional 504 for victory, England ended day four of the third Ashes Test only five wickets from defeat.
I don't know when the Ashes will be handed over, but they will be at some time on day five.
Australia are worthy winners. They have outplayed England since three-quarters of the way through the first day of the first Test in Brisbane and the difference between the two sides was underlined during the fourth morning here in Perth.
In 17 magnificent overs, Australia plundered 134 runs. Graeme Swann was hammered by Shane Watson and George Bailey took James Anderson for a joint world record 28 runs in an over.
It was absolutely brilliant, made all the more so by the fact that Australia did not have to play that way. You can imagine that England would have played carefully, plodding along until lunch. Australia, though, want to finish England off.
That blistering period might then have had something to do with the dismissal of Alastair Cook, who was bowled by the first delivery of the innings from Ryan Harris. The adrenaline was pumping, all the momentum was with Australia. These things don't happen by accident.
Later in the day, there were pictures of Cook and Kevin Pietersen looking dejected on the England balcony after Pietersen had holed out at long-on off Nathan Lyon, another example of him trying to win a personal battle rather than looking to save the team.
Pietersen bats as if he is simply taking on the bowler and fielders, rather than considering the team situation. Now, you can have cricketers who put themselves first, most often in a team that is winning and can be accommodating.
However, when you are being hammered, you need players that will toe the line. For that reason, England have to decide if they can continue or move on without him. They have a big decision to make.
On the other hand, it is players like Ben Stokes around whom England may look to rebuild their team.
His unbeaten 72 was a very good innings. People will say that he might be a place too high at number six and that might be right, but it doesn't matter at the moment.
The fact is we have a 22-year-old who has played only two Tests under enormous pressure, but is growing in confidence with every challenge that is presented.
He was brave, played very straight and took on the short ball properly and carefully. I don't want to put the mockers on him, but if you said at the start of the tour that Stokes would be the first England player to get a hundred, people would think you were mad. However, he really deserves it and I hope he gets there.
That, added to his bowling, means England have a character for the future. Stokes has pace and a nice action. He needs more accuracy and to learn to do more with ball, but that will come. He will learn and improve as he keeps playing.
While Stokes was the highlight of another poor day for England, there was another example of the poor sportsmanship that has existed between both sides throughout the series, when only one or two of the tourists applauded Watson's hundred.
I'm not singling out England because Australia have been just as bad. We have reached a point of no return and the boards, administrators and captains from both nations must get together to vow never to play like this again.
I know some will disagree with me. Some like the swearing and snarling, but I don't believe that is what Ashes cricket should be about.
It should be competitive, hard as nails on the field, but played respectfully and properly. At the moment, we are seeing a dismal advert for what is the ultimate contest in Test cricket.
If commentators do not stand up and speak out, who will? Do we wait until one player punches another? That is the way we are heading. Enough is enough.