Ashes 2013-14: Where has it gone wrong for England?

By Tom Fordyce
Chief sports writer
Last updated on .From the section Cricket646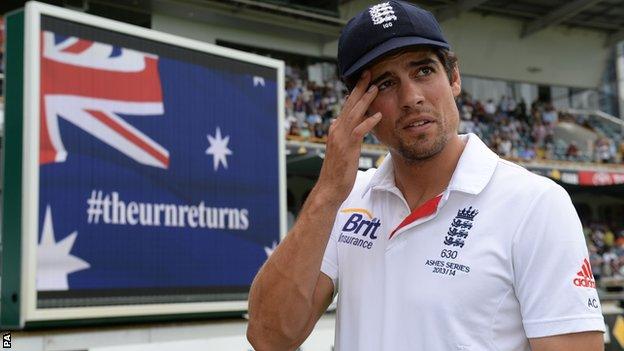 Less than four months after winning an Ashes series 3-0, playing a side beaten seven times in their previous nine Tests and without a win in any of them, England have been thrashed three times in 27 days to hand the Ashes back in humiliating fashion.
What happened in those intervening weeks? What went wrong with strategy, star men and selection? Why this, why now?
Captain Cook v Captain Clarke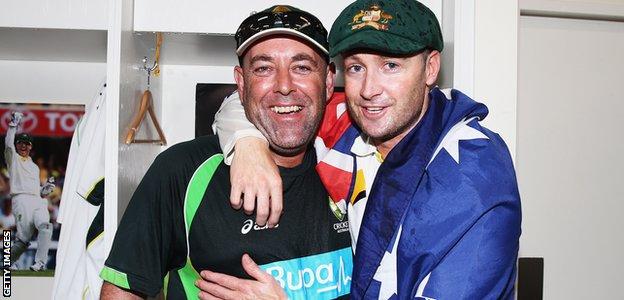 Three years ago, as England triumphed 3-1 on the back of three innings victories, Alastair Cook hit 766 runs at an average of 127. Michael Clarke, neutered and unhappy, averaged just 22.
With both now skippers of their national sides, both 100 Tests into their careers, the world down under has been turned upside down.
Cook, the weight of a losing team on his shoulders, has totalled just 154 runs at 25. Clarke, with centuries in both the first two Tests, is going along at 55.
Cook as a batsman has seldom struggled so badly in a series; after matching his lowest ever match aggregate in Adelaide, at the Waca he went for his first ever golden duck in Test cricket.
Then there are the tactics. Almost all of Clarke's plans for England's batsmen have paid rich dividends. So little of what Cook has tried has come off that it can be summarised by his decision, on the second day at the Gabba, to give Clarke free singles to get him on strike to Stuart Broad. Clarke went on to make a brilliant ton; Australia never looked back.
Lack of runs
In the corresponding series three years ago, England batted Australia into oblivion - 517-1 at the Gabba, 620 in Adelaide, 513 at the MCG, 644 in Sydney.
Their three first innings scores this time around instead barely touch the sides: 136, 172 and 251. They haven't made 400 in an innings for 11 Tests; the two centurions on that occasion, Nick Compton and Jonathan Trott, are both back in the UK.
Australian players have scored seven centuries in this series, Englishmen just one. So vast is the gap between the sides that at one point on Monday afternoon at the Waca, Australia had scored 1,000 more runs than England.
You want more? In facing fourth innings targets in excess of 500 in all three of the first Tests, England set a new and unwanted Test record. And not once have they got within 149 runs.
| England batting | Tests | Runs | Average |
| --- | --- | --- | --- |
| Ben Stokes | 2 | 167 | 41.75 |
| Ian Bell | 3 | 190 | 38.00 |
| Michael Carberry | 3 | 188 | 31.33 |
| Joe Root | 3 | 153 | 30.60 |
| Kevin Pietersen | 3 | 165 | 27.50 |
| Alastair Cook | 3 | 154 | 25.66 |
| Matt Prior | 3 | 107 | 17.83 |
The failures of senior batsmen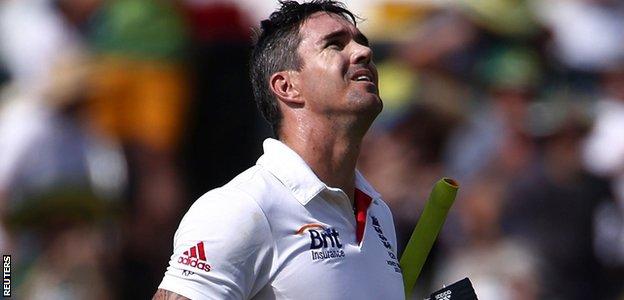 Senior batsmen? One problem is there aren't that many of them. Michael Carberry, Joe Root and Ben Stokes are all at the start of their Test careers, even if Carberry's chance has come in maturity.
Jonathan Trott - he of three centuries in his first five Tests against Australia, of an average of 89 in the last series down under - is at home recovering from his stress-related illness.
And that leaves just three: Cook, Kevin Pietersen and Ian Bell. Cook is enduring by far the worst of his five Ashes series. Bell, after his heroics last summer, has been reduced to mortal.
Pietersen? Pietersen has got out to unnecessary shots on five occasions, strolling like an egotistical innocent into the unsubtle traps set by Australia's bowlers.
In this series he has gone past 8,000 runs for England. Unfortunately only 165 of them have come in the last six innings. England's lynchpin has been exactly that: pinned, and lynched.
Mitchell Johnson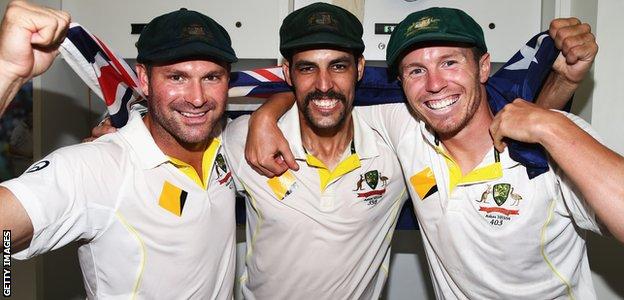 Only selected for Australia's initial Ashes squad because of injury to younger guns like James Pattinson, Mitchell Starc and Pat Cummins, Johnson has been the single biggest difference between the sides, the man whose fearsome bursts staggered England in Brisbane and brought them to their knees in Adelaide.
England's top order were often unable to hold him at bay. England's lower order were frequently fish in a narrow barrel.
Three years ago Johnson took 15 wickets at a cost of 554. Taking his display at his adopted Waca home out of the equation, he returned figures of 6-472.
This time, with two matches still remaining in which to wreak havoc, he has 23 at an average of just 15.
| Australia bowling | Tests | Wickets | Average |
| --- | --- | --- | --- |
| Mitchell Johnson | 3 | 23 | 15.47 |
| Peter Siddle | 3 | 11 | 22.09 |
| Ryan Harris | 3 | 12 | 23.58 |
| Shane Watson | 3 | 3 | 31.00 |
| Nathan Lyon | 3 | 10 | 31.40 |
| Steve Smith | 3 | 1 | 58.00 |
England's senior bowlers
It's not just Marauding Mitch who has done for England. The two other quicks who complete the trio, Ryan Harris and Peter Siddle, have tightened a tourniquet around English throats that has throttled the life from them.
England's two key bowlers, by contrast, have been first sterilised and then dismembered.
In 2010-11 James Anderson took 24 wickets at an average of 26.04, Graeme Swann 15 at 39. This time, Anderson has seven for 409 at 58, Swann seven for 560 at 80.
On Monday at the Waca both endured arguably their worst ever sessions in Test cricket. Swann conceded 14 from his first over and 22 from his second as Shane Watson launched him for three sixes in four balls; Anderson was smashed for 28 by Test beginner George Bailey to match the record for the most runs ever conceded off an over in Test cricket.
There is not taking wickets, and there is not taking wickets while being thrashed around the park. One is painful. The other is fatal.
| England bowling | Tests | Wickets | Average |
| --- | --- | --- | --- |
| Stuart Broad | 3 | 14 | 25.21 |
| James Anderson | 3 | 7 | 58.42 |
| Graeme Swann | 3 | 7 | 80.00 |
| Ben Stokes | 2 | 5 | 47.00 |
| Chris Tremlett | 1 | 4 | 30.00 |
| Tim Bresnan | 1 | 3 | 44.66 |
| Monty Panesar | 1 | 2 | 99.00 |
A tale of two wicketkeepers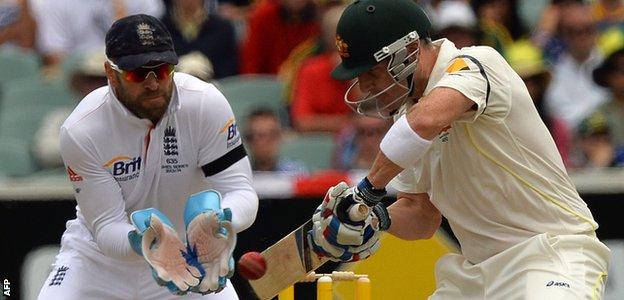 England have not been without hope in this series. At the Gabba they had Australia wobbling at 132-6, in Adelaide on 174-4 and then 257-5, and in Perth on 143-5.
On all three occasions the same man rode to the rescue. In Brisbane Brad Haddin made 94 off 153 balls in the first innings and 53 off 55 in the second, at the Adelaide Oval 118 off 177. His 55 at the Waca, as part of a critical partnership of 124 with Steve Smith, snatched the critical match away from England.
The contrast with his opposite number Matt Prior could not be more stark. With the gloves 35-year-old Haddin has been near-faultless, while Prior has seen his usually unblemished record behind the timbers tarnished by uncharacteristic error.
With the bat Prior - named England's player of the year at the start of last summer - has been mired in the worst slump of his storied career. From six innings he has just 107 runs. England have missed him awfully.
Off-field leadership
Andy Flower remains an excellent coach. Graham Gooch and David Saker are fine specialists. But on this occasion, they have been unable to match the impact of Darren Lehmann on charges or results.
After the ill-fitting regime of Mickey Arthur, Lehmann has been the right character at the right time - relaxed yet aggressive, chummy yet demanding. He has picked the correct side and stuck with it, he has resisted the trend for player rotation and he has devised plans for England's key players, both bowlers and batsmen, that have worked better than he even he can have hoped.
From the low of Lord's last summer, when the baggy green was beaten for a sixth successive Test, he has engineered first a fightback and now a rout. Australia should be mighty grateful to him.
| Australia batting | Tests | Runs | Average |
| --- | --- | --- | --- |
| David Warner | 3 | 457 | 91.40 |
| Brad Haddin | 3 | 325 | 65.00 |
| Michael Clarke | 3 | 331 | 55.16 |
| Mitchell Johnson | 3 | 147 | 49.00 |
| Ryan Harris | 3 | 76 | 38.00 |
| Steve Smith | 3 | 111 | 37.20 |
| George Bailey | 3 | 136 | 34.00 |
| Shane Watson | 3 | 200 | 33.33 |
| Chris Rogers | 3 | 156 | 26.00 |
Squad selection
It began at the Oval before the final Test of last summer, when England picked Chris Woakes and Simon Kerrigan at the last minute despite there being almost no prospect whatsoever of either getting on the plane to Australia.
Of those who were selected, three stand out both figuratively and literally: Chris Tremlett, Steven Finn and Boyd Rankin. The plan was simple - big tall men for hard bouncy wickets.
Except only Tremlett has played a Test, and even then just one before being left out. Neither Finn nor Rankin has yet got close, not least because neither has made any sort of case in the tour matches.
Meanwhile Graham Onions, the leading wicket-taker in county cricket last season and considered good enough for three Ashes squads last summer, is kicking his heels in South Africa.
Of the changes England have made, only Stokes has been an unqualified success. More will surely follow in Melbourne and Sydney.
Brand of cricket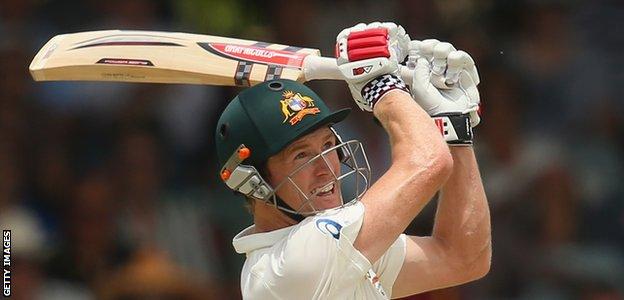 England built their success of recent battles on attrition. Play hard, give nothing away, grind and grind until the opposition are dust.
Against other teams in other conditions it has worked. Against this Australian team - relentlessly aggressive with both bat and ball, spiky in the field, backed by a similarly bellicose press - on these pitches (hard and bouncy) it has proved one dimensional.
Had England been in Australia's shoes on Monday morning at the Waca, would they have launched the attack which put on 134 runs in 17 overs and dismantled Anderson and Broad, or would they have quietly compiled 70 without anywhere near the same psychological damage?
When Australia have been on top with the bat, England appear to have no Plan B beyond slowing things up and hoping for mistakes. The 500-run targets they have had to chase in the fourth innings of each Test illustrate how unprofitable that tactic has been.
Three lost tosses
England's chances certainly would have been improved had they been able to bat first in all three Tests, particularly in Adelaide (two spinners selected) and then at the Waca, where the cracks in the pitch on the final day resembled a cricketing Grand Canyon.
But with the gulf between the sides in all areas equally as wide, the tosses could only be described as pivotal by the sun-stroked and beer-kissed.
And three things that made no difference
The 82-page menu
Sir Clive Woodward won a rugby World Cup by paying obsessive attention to the tiniest details. It's been Mitch's cherry, not goji berries, which has been the problem.
Celebrations at the Oval
A little illicit watering of the pitch after last summer's fifth Test might have offended the worms, but it told you nothing about this England team except elite sportsmen are non-elite drinkers.
Wives and girlfriends
England were 2-0 down before the Wags even arrived in Australia. So for once only the statistically incompetent could blame their presence in Perth for their partners' customary defeat at the Waca.