Ashes 2013-14: England found out by Australia - Alastair Cook
Last updated on .From the section Cricket
England captain Alastair Cook said his team had been "found out" by a "ruthless" Australia as they surrendered the Ashes in Perth.
The tourists were beaten by 150 runs as Australia took a 3-0 lead in the series with two matches still to play.
"We haven't been good enough," Cook told BBC Sport. "We've been outskilled in all aspects. It's hard to say that as a player but that's the truth.
"It hurts. We've got to work as hard as we can to turn things around."
England were favourites to win their fourth Ashes series in a row after beating Australia 3-0 on home soil in July and August.
But they were blown away by margins of 381 runs in Brisbane and 218 in Adelaide before the thrashing in Perth.
Cook, however, insisted his team had not been taken by surprise by the quality of their opponents' cricket.
"We knew what a good side they were in England," he said. "Any side coming to Australia, you have to be at the top of your game to compete. But we have been found out, we haven't been good enough.
"They've been ruthless - ruthless in never letting us back in any game when they got ahead of us.
"We haven't managed to score enough runs and whenever they needed a partnership they got it.
"There is always a balance between risk and reward and our shot selection has let us down."
"But there's a lot of talent in the dressing room. Everyone's hurting now, it's an incredibly tough place to be. That happens in sport - there's a winner and a loser and at the moment we're in the losing dressing room and it hurts."
Cook paid tribute to Ben Stokes after the 22-year-old all-rounder scored his maiden Test century during England's unsuccessful attempt to keep the series alive on the final day.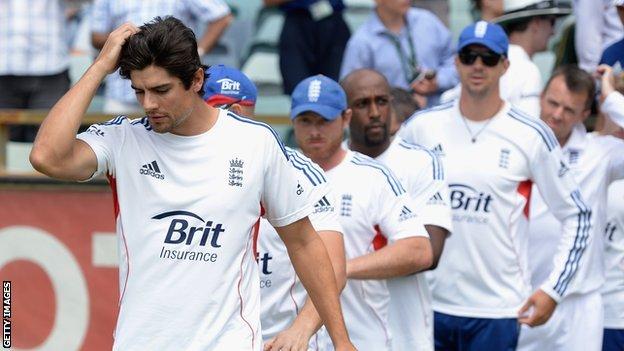 Chasing 504, England were bowled out for 353, with Stokes scoring 120 in only his second Test on a pitch littered with cracks.
"It was a fantastic innings - full of character on a tough wicket with those cracks, it's always daunting to see them," added Cook.
"He put them out of his head and I thought it was an outstanding hundred."
Stokes's century was the first by an England player in the series compared with seven by Australia
Michael Vaughan, who captained England to their first Ashes series win in 18 years in 2005, said he was alarmed by the gulf between the sides over the first three matches.
"Australia have won by miles," he said on Test Match Special. "From the minute they arrived at Gabba, it was a different Australia. They were going to make life difficult for England and the press joined in.
"England lost the three tosses but if I hear that as an excuse I will not be very happy. They have been completely outplayed in each facet of the game and you have to hold your hands up to Australia.
"The first innings scores are there to set the foundation for the game, you are not getting close to drawing let alone winning Test matches with the scores England have got.
"England have been battered. It has been quite embarrassing."