Ashes 2013-14: Defeat signals start of England inquest

By Jonathan Agnew
BBC cricket correspondent
Last updated on .From the section Cricket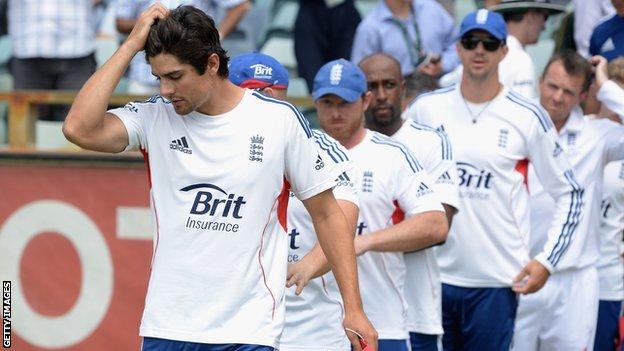 England's 150-run defeat in Perth, the confirmation of an Ashes victory for Australia that we have seen coming for some time, signals the beginning of a period of introspection for all connected with English cricket.
They will look where they have gone wrong, the way they play their cricket, at the personnel who were chosen and then pick a course towards the summer of 2015 when Australia travel to England to defend the urn.
Australia captain Michael Clarke has spoken of his desire to repeat the 5-0 of 2006-07 and that is certainly a possibility.
After that whitewash and the subsequent World Cup failure came the Schofield Report into the state of the English game and, while something on that scale might not be necessary this time, the administrators should at least cast the net wide to find answers.
The views of those connected with first-class cricket should be listened to, as well as those of the media, the people who have watched England play over the last few years.
We write on this team every day. Sometimes we are right, sometimes we are wrong, but we do watch a lot of cricket and can offer an opinion on the direction in which England should go. Ultimately, there will have to be lessons learned from this tour.
Off the field there are already changes planned to the England set-up. Paul Downton will come in as the managing director of England cricket, replacing Hugh Morris, who did a very good job.
Meanwhile, James Whittaker is to replace Geoff Miller as the national selector and may have some tough decisions to make between now and the summer.
Hopefully he already knows who England's all-rounder will be in 2015 and beyond. Ben Stokes played a fantastic innings and thoroughly deserved his maiden Test hundred. The Durham man showed great character in the face of real hostility with plenty failing around him.
Stokes' arrival not only gives England the all-rounder that all teams need, but also provides them with plenty of options going forward.
Graeme Swann, who for so long has played the double role of stock bowler and wicket-taker, almost certainly won't be around in 18 months, so Stokes will give England the option of playing five bowlers.
That is one route for England and one bigger decision will be where captain Alastair Cook bats.
I first talked about Cook dropping down to number three during the second Test in Adelaide. Some will disagree - I spoke to Michael Atherton who believes that openers should open - but his form on this tour can't be ignored.
So often, he has been out in the field for two days, trying to keep a sinking ship afloat, then, with only 10 minutes to prepare, he has been asked to open the batting. It's little surprise that he has been getting blown away, so the debate over where he bats is forming its own argument.
If England were winning, Cook's poor form is something that could be tolerated, but, in a losing team, issues such as his become pressing, to the extent that they may even be addressed for the Boxing Day Test in Melbourne.
England cannot keep putting out the same players that aren't performing, because more of the same will result in 5-0. But, it's a question of how radical they want to be.
It's possible that one or all of Matt Prior, Graeme Swann or Kevin Pietersen might step aside. Stuart Broad's fitness will affect selection and, particularly if he's not fit, England might have to finally turn to one of the three other tall fast bowlers in their squad.
The problem for England is that there is no match between now and the Melbourne Test for players to find any form.
They will have a break to celebrate Christmas with their families, have some net practice and then they will be in front of a potential crowd of 100,000 at the MCG.
It's tough, but they have to get themselves out of this mess. No one else can do it for them.