Ashes 2013-14: Graeme Swann upset by retirement coverage

By Tom Fordyce
Chief sports writer at the MCG
Last updated on .From the section Cricket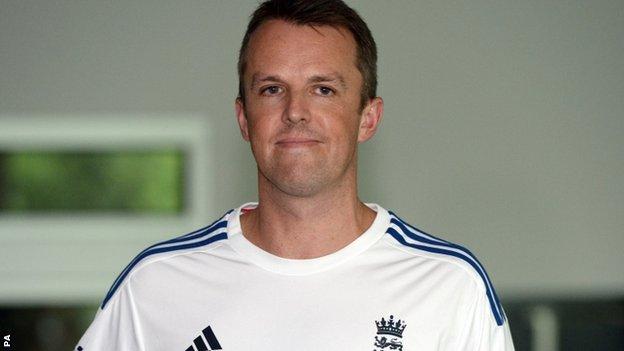 Graeme Swann has hit out at some media coverage of his cricketing retirement as he prepares to leave England's struggling Ashes tour.
The off-spinner was also disappointed by the reaction at home in England.
"People phoning my 90-year-old grandma - I know the Ashes is big and people are desperate for a story, but that's just the pits," Swann told BBC Sport.
"She's a lovely old lady, and to have her really upset on the phone, not knowing what's just happened, being ambushed by a local paper from Newcastle - I can't believe it's come to that. The one or two people responsible for that I hope get their comeuppance."
Swann had described certain players as "up their own backsides" - which some interpreted as a veiled attack on Kevin Pietersen - before subsequently clarifying his comments.
He told Test Match Special: "I think there is an old saying: to assume makes an ass of you and me. That many of the written press assumed that, I can only say what that makes them.
"I spoke to Kev on Monday, I assured him there was nothing in it aimed towards him. He said, 'Well, I know exactly who you are talking about.'
"All the England boys know who grinds my gears around the world in cricket and perhaps the rest of the world will.
"I got a lot of good reaction immediately, and then lot of very poor reaction the next day when the press decided to spin the story and look for cracks in the England armoury that just aren't there.
"But I suppose that's because of the state we find ourselves in, 3-0 down in the series and the Ashes already lost.
"Everyone assumes there must be a rift and that there must be anger. There must be people throwing punches at each other in the changing room.
"Fortunately it's just not there. A few people need to realise that and get back behind the England cricket team."
Swann's former international captain Alastair Cook also defended the off-spinner when he spoke the the media in Melbourne ahead of the Boxing Day Test at the MCG.
Swann's decision to quit mid-tour triggered questions of which other senior players might be close to following his lead after a month in which England have lurched from one cricketing crisis to another.
But Cook said: "When I spoke to Graeme just before he announced it, it was very clear in his mind and then very clear in my mind looking at him how that was the decision he wanted to take.
"It was the right decision from him. That's what made it such a brave decision, because of the stigma which he knew would come of it.
"He had no more to give this England shirt which must be incredibly sad day for you as a guy who loves cricket as much as he does.
"We have some players who are getting to the back end of their careers, but it does give people a huge amount of opportunity. But chatting to the guys I don't see any other people going that way at the moment.
"I applaud Graeme for making that decision in one way because he could have hung on. But he would have hung on for him for all the wrong reasons after chatting to him.
"We should appreciate what he's done for English cricket. We should remember the good times now with Swanny.
"When you woke up in the morning and saw (the comments), you do think, God what's happened here?
"But a quick chat to Swanny and you realise what he said and what he meant to say and maybe there was probably a better way of saying it.
"He's given me a 100% reassurance that it wasn't anything to do with us. He's told the team that. and in my opinion that's the end of the matter."