Ashes 2013-14: England's belated arrival at Ashes party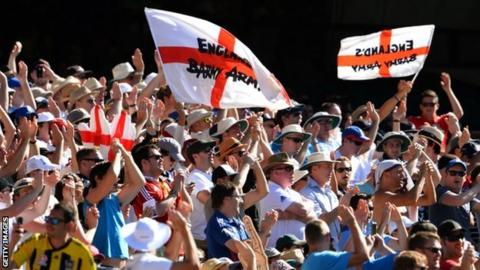 England will be very happy with their bowling performance on the second day of the fourth Test, but will be frustrated that they could not produce this quality of cricket when the series was still alive.
They know they are every bit as good as Australia, and that they should not be 3-0 down. Having reduced Australia to 164-9 in reply to 255, England will feel a real mix of great pleasure at a good day's work and a sense that they should have played like this in the first three Tests.
When England lost their last four wickets for 29 early on, there was a sense of "here we go again" and I think the Australians walked out to bat thinking they just needed to play a few shots and they would be well on the way to 350.
That may explain the cavalier approach of David Warner and Shane Watson as they threw their wickets away to gift England a perfect start.
After that, England took advantage of a slower, more abrasive pitch that was much better suited to their brand of bowling and worked their way through the home side's batting order.
They found some reverse swing as the ball got older and when Tim Bresnan dropped his pace and bowled to a defensive field, he barely went for a run.
Overall, England bowled with great discipline and made it hard work for the Australians, who showed that they are as vulnerable to pressure as any other batting side.
For England to be effective with the ball on faster, bouncier wickets, they will need to find someone with real pace - Steve Finn is the obvious candidate - who can bowl nastily to sweep away the lower order in the manner that Mitchell Johnson did once again on Friday morning.
Johnson's potency allows Michael Clarke to throw the others the ball for long spells and keep his biggest weapon back for three or four-over bursts when he knows he is going to cause the most damage. Amazingly, in the space of four spells in this series, the left-armer has taken 18 wickets for 37 runs.
The difference is that when the opposition have been five or six wickets down, Johnson has roared in and demolished England, but the tourists haven't had anybody to do that. Until today, the last five wickets had saved the situation for Australia time and again.
Belatedly, however, England's fans do have something to cheer about as they contemplate a healthy first-innings lead.
A cushion of about 80 runs would give them the confidence to go out there and bat with discipline and get into a position to win the game.
For once they are in control of the match, but I expect Australia to come roaring back at them with the ball, so it could be a real cracker of a third day.
Johnson will be tearing in, Nathan Lyon will be spinning the ball and they will be trying to dry England up and prey on the fragile confidence of the touring side's dressing room.
England must try not to be tentative. They are in unfamiliar territory in this series, but they have to go out and play as if they believe they can win the match.
If they can post a lead of 400, England will put Australia under huge pressure in their second innings.