Ashes 2013-14: England's worst display - Michael Vaughan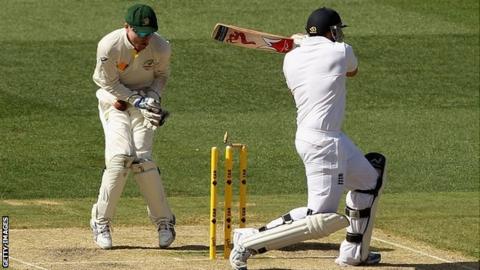 England's performance on the third day of the Melbourne Test was their worst of a very disappointing Ashes series, says former captain Michael Vaughan.
The tourists collapsed from 173-5 to 179 all out before Australia closed on 30-0, just 201 runs away from victory.
"There was no excuse for what happened out there this afternoon," Vaughan said on Test Match Special.
"It's just not good enough. Some of those decisions they made today are just not to a high enough standard."
England, trailing 3-0 in the five-match series, began the day with a lead of 91 runs, but ended it contemplating defeat after their latest batting collapse.
They lost three wickets for one run to slip to 87-4, then surrendered their last five wickets for six runs in the space of 40 balls.
"That was the worst display of the series," added Vaughan. "The real disappointment is that, for the first time in the series, England were well on top. They had a lead of 51 and could still win the match, but some of the shot selection was terrible.
"There are many people having a go at the batting coach Graham Gooch, but don't give the players an excuse. It's the players that go out there and make the decisions
"You can't make those mistakes and continue to make those mistakes. You do it once or twice fair enough, but to do it four or five times within a five-match series… they are just not thinking correctly."
Former England batsman Geoffrey Boycott was similarly dismayed after seeing England squander such a promising position in the match.
"This day promised a great deal for English cricket but finished really disappointingly," he said on TMS. "I feel very dejected after feeling this was England's best chance to win for a long time.
"I'd like to be in the dressing room telling them what I think. They think they're better than they are. They've won three series against ordinary Australian sides and they think they're world beaters.
"I hope they don't go home thinking everything will be all right when they get back to England because it damn well isn't."
Despite their dismal day, history suggests England can still pull off a victory at a venue where no team has chased as many as 231 runs to win since 1963.
And wicketkeeper Jonny Bairstow remains confident England can take the 10 wickets required on the fourth day.
"Naturally it is disappointing not to score big runs. But we have what we have, and are still 200 runs in front," he said.
"Tomorrow we have to concentrate on getting the job done and taking 10 wickets.
"We are very confident. We have people in our side who have shown the skills that are needed."
Australia off-spinner Nathan Lyon, who claimed his first five-wicket haul against England, knows his team will have to be at their best to secure the win that would put them 4-0 up in the series.
"It's going to be a massive challenge," he said. "We know the trend of the game - it is easiest to score runs off the new ball, then it gets harder.
"Hopefully we can get a couple of big partnerships together and get over the line."