Ashes 2013-14: England on a road to nowhere - Jonathan Agnew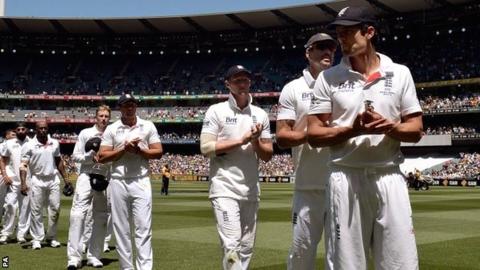 It has been absolutely shattering to witness the brutal dismantling of what was a decent England team over the past six weeks in Australia.
Their 3-0 victory during the summer was probably an unfair reflection of the balance of power but England were the better side and deserved to win - although they clearly believed they were better than they were.
If you had put together a composite of the two teams at the end of the English summer you would not have found many Australians in it but if you were to do the same now you would probably only include Stuart Broad and Kevin Pietersen from the England ranks.
It is a remarkable turnaround over such a short space of time and leaves you feeling that England just need this series to end before further damage is done.
Interviewing Alastair Cook after the eight-wicket defeat in Melbourne, I couldn't detect any real confidence that England know how they are going to turn it round.
He spoke again about the hard work they do in practice, but that's not what's required now - it is the whole character of the team that has gone.
The confidence of every player has taken a hammering. You need a spark to lift the team and I don't see where that is going to come from.
Cook was honest, he didn't try to brush things away, but they have to get out of this tour and then have a really detailed look at what has gone wrong.
I would chart the demise back to the second Test against New Zealand at Headingley where England should have enforced the follow-on and thrashed them but chose to be cautious and bat again.
They were very disdainful of the opinion that they should have been more aggressive by putting New Zealand back in to bat, but it was a defensive move and in the event they were fortunate to have enough time to win the game on a showery final day.
The pattern has continued in Australia. Men back on the boundary when a new batsman is at the crease. The constant time-wasting and slowing down of the game to set what turn out to be very routine fields.
Until they properly address the manner in which they play cricket I don't think this team is going to go anywhere.
At the end of this tour there has to be a long and thorough review and I hope everyone involved in the game is allowed to have a say, because we all have our own thoughts.
Some tough decisions need to be taken both in personnel but also in the manner in which England is playing its cricket at the moment.
What would not be right for English cricket would be to prepare nice green pitches in order to ambush India and Sri Lanka with a Dukes ball in the summer and assume everything is all right again.
If we are just going to prepare damp pitches for the ball to shoot about and for overseas batsmen who aren't used to it to nick off, then we are not going to improve as a team.
England need to build an attack capable of beating Australia in conditions which are fair to both sides.
The pitches in Australia have been perfectly good, but they have been unfamiliar to the England players, who are used to playing on pitches that suit their own strengths.
What can England do for Sydney? I hear people saying they would drop Michael Carberry because he is not a long term solution and I can understand that argument.
The manner in which he batted in the second innings in Melbourne makes you wonder if he is cut out for Test cricket.
They could move Joe Root to open, they could put Ian Bell up to three and Gary Ballance in at five. You feel they have to try something because to trot out the same batting order would be unlikely to produce anything different.
In the bowling department, I think James Anderson has blown his bolt for now and probably needs a breather.
That would mean a call-up for one of the three tall pacemen - Chris Tremlett, Steven Finn or Boyd Rankin.
They have all bowled very poorly on the tour so far, but you can only deal with the resources that are out here in Australia and England's options are very limited.