Ashes 2013-14: Michael Carberry in no man's land - Stewart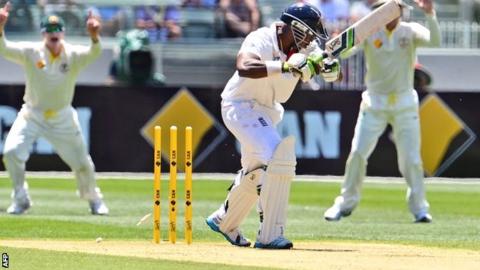 Just when we thought England's Ashes tour couldn't get any worse, they proved that it could with their poorest batting performance to date in the second innings in Melbourne.
For the first time in the series England actually got themselves into a winning position in this Test match, but in the space of 61 overs they managed to throw it all away with possibly the worst display of shot selection I have seen.
I played in many England sides that collapsed horribly but I honestly can't remember as many bad shots or bad decisions as we saw at the MCG.
People can point fingers at the captain, the coach or other members of the England management team but the individual players are the ones who have to take responsibility for their own actions when they are facing the ball.
Alastair Cook spoke openly and honestly after the game. He said the work ethic is there, and I don't doubt that for one minute, but they are not then putting that hard work on the training ground into good effect out in the middle where it matters.
It looks to me now as though they are shot to pieces as they stare down the barrel at a 5-0 whitewash.
So how should the England selectors approach Sydney?
There will be a temptation for a complete overhaul, but remember they can only work with the players who are out there in the squad. It is more likely they will wait until the summer series against Sri Lanka before major decisions are made.
The selectors need to assess the state of mind of every player currently in the team and decide whether they are right to play, or whether being withdrawn from the firing line would actually help England in the long-term. This is what they did with Matt Prior, who I believe will benefit from the chance to recharge his batteries and come back firing in the summer.
The areas I expect them to look at closely are the opening batting slot and the pace attack.
Michael Carberry is a difficult one. He was picked on the back of his reputation in county cricket as a fluent stroke-playing opener and on his performances in the one-day matches against Australia last summer.
He started off positively, but he has gone completely into his shell and is now almost a mirror image of Nick Compton in his last couple of innings before he was dropped.
Why has it happened? Is it because he has got out pulling a couple of times in the first three Tests? I'm sure there is talk in the dressing-room about people putting a higher price on their wickets. That is common sense but it does not mean totally abandoning the tried and trusted ways that have got you runs throughout your career.
In the second innings in Melbourne, Carberry batted for two hours to score 12 runs, with one four. That isn't Michael Carberry batting with the freedom I'd associate with him. At the moment he's in no man's land and doesn't know whether to stick or twist.
The selectors have to decide whether Carberry is still going to be in their plans for the summer or whether they've already decided he hasn't got what it takes to be a Test opener.
If he remains in their thoughts then he should definitely play in Sydney. But if they are already thinking of going in a different direction against Sri Lanka in June then they should move Joe Root back up to open, allowing Ian Bell to go in at three and Gary Ballance to come into the middle order.
I am not in favour of just giving out England caps like confetti, but Ballance has effectively earned the right to play through other people's deficiencies, and it would give the selectors a chance to have a look at him in the Test match environment.
The other change for England to consider is whether one of the three tallest drinks waiters in the world is going to finally get the chance to hold a ball and not just a bottle or a glass.
Aside from Chris Tremlett's solitary outing in Brisbane, none of he, Steven Finn or Boyd Rankin have had a chance to influence the series.
The reason for that is quite simple - they have not bowled well enough, either in the first-class tour matches or in the nets.
At this stage of the tour, however, the selectors may just feel the time is right to give one of the big men a go which would mean one of James Anderson or Tim Bresnan missing out.
Although England will be determined to avoid the ignominy of a second Ashes whitewash in seven years, in many ways whether they lose 4-0, 4-1 or 5-0 is now irrelevant in the bigger picture.
Following the tour, the selectors need to draw a line under the Ashes and start planning for the future.
The first six weeks of the County Championship season should act as a trial, for the England players in possession to try to prove they are still good enough to wear the shirt, or for others such as Sam Robson at Middlesex or Compton at Somerset to force their way into contention.
In the last few weeks, England have let themselves and their supporters down. Let's hope in 2014, they can make us proud of them again.
Jacques Kallis retirement
Sir Garfield Sobers is the greatest ever but Kallis has to be the next best all-rounder to have played the game.
He is the perfect three-in-one cricketer - a prolific run-scorer, could swing the ball at nearly 90mph in his pomp and caught everything that came his way at slip.
Just as Shane Warne's retirement left a huge hole in Australian cricket, South Africa will find it very difficult to replace Kallis.