England peaked about two years ago, says Schofield Report author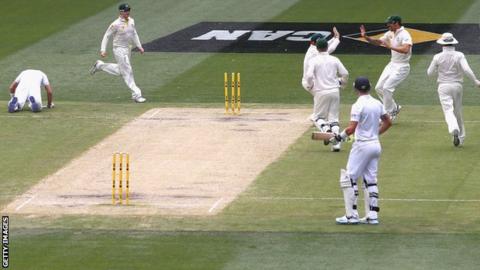 England are past their peak according to the Schofield Report author who reviewed their 5-0 loss to Australia in the 2006-07 Ashes.
Ken Schofield wrote a report calling for a 19-step overhaul of English cricket policy after that defeat.
But Alastair Cook's side are 4-0 down ahead of the final Ashes Test in Sydney and could fall to a second England whitewash in three visits.
"We probably peaked about two years ago," Schofield told BBC Radio 5 live.
However, Schofield - former executive director of golf's European Tour - does not believe a review such as his in 2006 is as pressing this time, pointing to the fact that Australia have recovered from last summer's 3-0 defeat in England.
He also believes that Cook's side did not have enough time to recover from the last home Ashes series, which only finished in August.
England normally visit Australia once every four years, but the England and Wales Cricket Board want to break a cycle that sees such a tour always take place in the winter immediately before a World Cup.
As a result, the current Ashes series was brought forward a year, meaning the first Test of the current series began less than three months after the last one ended.
"Australia found their best team in about four months," said Schofield, who was a long-serving executive director of golf's European Tour.
"I rather feel the 3-0 win that Alastair's team got this summer took a lot more out of them than we probably thought.
"Leave aside any issues with the structure of cricket, the one thing that's really acted against them - and I do feel for them here - is the schedule.
"This is the first, and I hope, the only time we will play the Ashes back-to-back in the same year.
"We know the reasons why - let's hope we never have to do it again."