Ashes: Mitchell Johnson criticises England batsmen's 'tactics'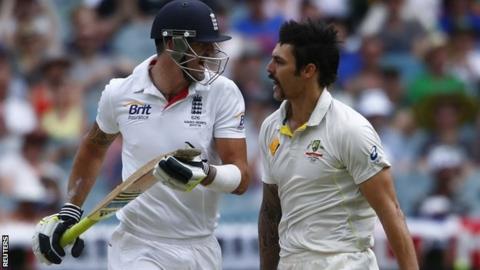 Australian bowler Mitchell Johnson has accused England batsmen of deliberately backing away before the ball is bowled to unsettle the Australian pacemen.
Johnson, 32, got into a row with Kevin Pietersen in the fourth Ashes Test when the 33-year-old stepped away from the crease during his run up.
"That's how they play the game and have always played the game," said Johnson.
"I don't think they'll change. It is frustrating when it happens all the time, but it's part of their tactics."
The fifth and final Test starts on Thursday at 23:30 GMT at the Sydney Cricket Ground.
Johnson has taken 31 wickets in the series which Australia lead 4-0.
Batsmen do have the right to stand away from the wicket before a ball is bowled if they are distracted by movement in the crowd.
But Johnson, who threw the ball towards Pietersen before exchanging heated words after the England batsman stepped away, believes the tourists take it too far.
"The only thing I regret is throwing the ball," Johnson said. "That was probably a little bit inappropriate but the rest of it was fine.
"It hasn't really bothered us throughout the whole series, but I just thought it was time to let him know that it was inappropriate and he needed to stop doing it.
"The sight screens are big enough, he should be watching the game. I won't back down if it happens again."