Ashes 2013-14: Brad Haddin shatters England's hope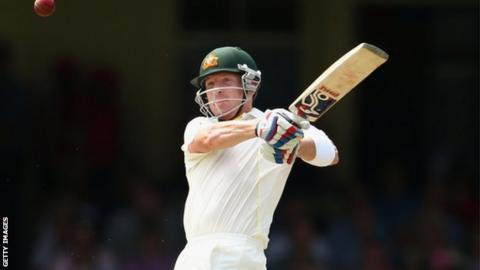 In terms of pure entertainment, the first day of the fifth Ashes Test in Sydney was outstanding, but from an England point of view it was a disappointingly familiar tale as they once again let a promising position slip.
In allowing Australia to recover from 97-5 to 326 all out, England's hope was shattered and the worry now is that they will collapse in a heap once more.
Yet again, England's tormentor-in-chief was Brad Haddin, who led a spirited counter-attack with an aggressive 75.
Haddin is my player of the series. It is just about possible that Australia would still have won the Ashes without Mitchell Johnson, but they could not have done it without the consistent contributions of Haddin at number seven.
On average, Australia have been 141-5 in the first innings of every Test match. But largely thanks to Haddin's five consecutive half-centuries, their last five wickets have gone on to add an average of 214.
It is an extraordinary statistic that encapsulates the difference between the two sides. Like Australia, England have often found themselves five wickets down without enough runs on the board. But unlike their hosts, England's tail has been blown away.
England have obviously talked a lot about how to bowl to Haddin, but sometimes you can think about things too much.
The Australian wicketkeeper's gameplan is always the same. He sets out to attack and anything fractionally short is pulled away through midwicket or over mid-on.
Haddin and centurion Steve Smith took advantage of some wayward England bowling as the tourists totally lost control after tea.
Boyd Rankin went off injured, Ben Stokes started conceding runs and debutant Scott Borthwick bowled some terribly loose balls, which were put away.
I really don't know what the decision-making process was with Rankin's hamstring. To come back on for one ball before breaking down again was humiliating for the Warwickshire bowler. It is the sort of thing some people might not get over. England are saying he will be fit to bowl again in Australia's second innings, but by then it might be too late.
Meanwhile, Stokes continues to develop into a fine all-round cricketer. To score a century and take a six-wicket haul in your first four Tests is a sensational start to a career.
The Durham man has character. He has come in at a young age with very little experience and emerged with huge credit from this shambles of a tour.
His performances at least mean that England can begin their rebuilding project with one key position accounted for - a fast bowling all-rounder to bat at six or seven.
Whether or not Michael Carberry is part of England's Test future will almost certainly hinge on his performance in the second innings.
I was a bit surprised to see the Hampshire opener get the nod over Joe Root, who England seem to think needs a break, and although he got out to a brilliant catch by Nathan Lyon at leg-slip he never looked comfortable during his brief time at the crease.
England will resume on Saturday morning on 8-1 and it is impossible to avoid the feeling that they are there for the taking.
It is going to be lively and hostile and England are going to have to show every ounce of resilience if they are to get anywhere near Australia's score.