Ashes 2013-14: Deja vu for England's 'Unwatchables'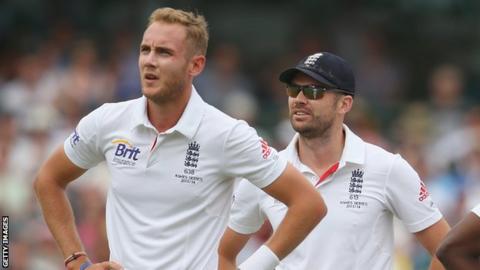 New year, same old story.
So much for resolutions and fresh starts. In reducing Australia to 97-5 just after lunch on the first day of this fifth Test, and then watching impotently as the next three wickets stuck on 228, England's 2014 began just as 2013 had ended: less brave new world, more deja-vu all over again.
For the fifth time in five Tests, England had a foot in the door at the SCG. Just like everywhere else on this most ill-fated of campaigns, Australia then slammed it shut with a grisly crunch.
Over in Sydney's tourist-trap hot-spot of Circular Quay, the city's Museum of Contemporary Art is currently running a Yoko Ono exhibition. "WAR IS OVER!" proclaim vast posters.
Someone needs to tell Brad Haddin. Even as rumours of his Test retirement swirl around town, the old fighter continues to come off the ropes to batter England's weary bowlers until heads spin and legs fold.
In making 75 here, with Steve Smith first adding able support and then racing away to a pugnacious 115 of his own, Haddin did exactly what he has been doing all series. It makes it no less remarkable.
The 36-year-old's first innings scores in these Ashes now read 94, 118, 55, 65 and Friday's 75. Factor in his second innings and he still has only one score under 50, and that at Perth when those around him were wreaking such merry mayhem that even George Bailey looked good.
Haddin is the dominant reason why Australia's top order have been able to fail so regularly yet the team coast into a 4-0 series lead that could shortly become five, ensuring in the process that when England's bowlers' job is half done, they are still more than half the way to success.
While the home side's first five batsmen have averaged a cumulative total of 141.8 runs in the first innings in this series - only marginally better than England's top order - their bottom five have averaged 214.2.
Australia's run of first innings recoveries are worth listing as much as Haddin's individual contributions - 100-5 to a total of 295, 174-4 to 570, 143-5 to 385, 112-5 to 204, and now 97-5 to 326.
That is not so much counter-punching as an all-out assault. England, by contrast, have less come out swinging as fallen through the ropes while grabbing for the white towel.
In their first innings in Brisbane they spiralled from 87-5 to 136 all out. In Adelaide they went from 117-5 to 172, in Perth 190-5 to 251, and at the MCG from 202-5 to 255.
In total, England's last five wickets in four Tests have added just 218 runs. Australia's, even before this first day in Sydney, had added 842; once Haddin and Smith had finished at a packed and cavorting SCG, that total had climbed to 1,071.
Australia's last five have averaged 39.6 runs per wicket. England's last five are averaging 5.4. Australia's sixth and seventh wickets alone are going along at 68.9 apiece.
If those are ugly numbers for England, there are others.
Australia's media have dubbed their team 'the Unchangeables', hardly the most romantic of sporting soubriquets, but a tribute at least to successful selection and stout bodies.
In opting to use their 18th player of the series - a new record for an overseas tour - England have become the Unrecognisables, even as some wags would prefer them to go down as the Unmentionables or Unwatchables.
So damaged were two of their three debutants here that it seemed prudent to cover the third, Gary Ballance, in several layers of bubble-wrap when he went in to field at short leg.
Boyd Rankin, having spent the last two months carrying drinks and trying not to get sunburned, went wicketless off eight overs, pulled up injured, came back, lasted one more ball and limped off injured again.
Scott Borthwick, the first leg-spinner to play for England since Ian Salisbury 14 years ago, went for 21 runs from his first three overs and 26 more from his next four.
The last spinner to make his England debut, finger-spinner Simon Kerrigan, was the object of sombre sporting obituary after conceding 0-53 off his eight overs at the Oval last August. While Borthwick at least got a wicket - Mitchell Johnson caught in the deep attempting to batter him to Bondi - he was more expensive yet.
This ground, at this stage of this tour, is no easy place to make your Test bow. Neither is wrist-spin an art that is mastered young nor one that offers instant control.
Borthwick is also as much batsman as bowler. But both he and Rankin will hope to avoid the fate of predecessors who have made their Test debuts alongside two others.
The last time three began together, in Nagpur eight years ago, one went on to play 100 Tests in a row and captain the team (Alastair Cook), another to 167 Test wickets (Monty Panesar) and the third, Ian Blackwell, back to county cricket and pub quiz obscurity after going wicketless for 71 and scoring just four.
On the previous occasion, in Johannesburg in 1999, another Test captain and batting powerhouse was also born - Michael Vaughan. So too was another one-cap wonder. While Chris Adams at least went on to make four other Test appearances, albeit with a batting average of 13, poor old Gavin Hamilton went for a duck in his first innings, failed to take a wicket in South Africa's and then repeated the trick in the second.
It is an unpleasant augury for Rankin and Borthwick, even as the performances of the ever more impressive Ben Stokes in the four matches since his own introduction offer a brighter example, even if their initial travails should not be entirely unexpected.
Rankin has not bowled outside the nets since the social outing against a Chairman's XI in Alice Springs at the start of December. Borthwick has been playing grade cricket for the city's Northern Districts team.
But this is what happens on doomed campaigns: the failings of others trigger unreasonable demands on those not picked initially for far more logical reason.