Ashes 2013-14: Farcical England hit new low in Australia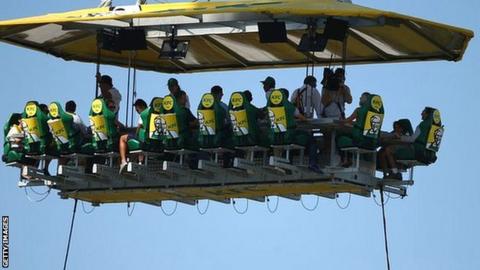 Swinging wildly from a crane 300 feet above the Sydney Cricket Ground on the first two days of this fifth Test has been a rectangular table with chairs attached around its perimeter.
Successful entrants in a competition run by a poultry-based fast food firm have been hoisted aloft to watch the proceedings far below while cramming their snouts with fried bird.
It is possibly the only way any England cricket fan in the city could feel any more sick than they already do.
In a tour that has seen more barrels scraped than a series of Celebrity Big Brother, Saturday at this beautiful old ground somehow managed the impossible and conjured up a new low for the tourists.
It wasn't when England lost four wickets in a ghastly first hour to be 23-5, still only halfway to their lowest ever total against the oldest and meanest of enemies, although that was the point when disaster movie became farce.
It wasn't even when they were eventually bowled out for 155 to cede a first-innings deficit of 171 runs less than 24 hours after having Australia 97-5. In a series when four times they have failed to make 180 in an innings, such a feeble tally is more norm than nightmare.
It came instead in Australia's second innings, as Michael Clarke's men moved towards a lead of 311 that on Sunday will become more impregnable yet, when Chris Rogers angled a ball down to third man for three and ended up instead with seven.
The four overthrows from Jonny Bairstow which made such profit possible were painful enough. Then came the thought that, with a single shot, the 36-year-old short-sighted colour-blind Rogers had scored as many as any of England's first five batsmen managed in their entire innings.
It was more than Michael Carberry, Kevin Pietersen and Ian Bell had produced in over two hours between them. It was also so abject that Rogers and Clarke simply stopped mid-pitch and laughed their compression socks off.
No more stern mutterings about how England remained a dangerous side. No more bothering to tell any opposition players to get ready for a broken arm. Just unguarded, shoulder-shaking guffaws.
England's innings card after that first 57 minutes of calamitous capitulation - 1, 7, 7, 3, 2 (23-5) - looked less like a fightback and more like a phone number. If you try it with a UK dialling code it probably goes straight through to the emergency services.
For England supporters at home, this has been an Ashes to increasingly attempt to avoid - no checking of the smartphone when the bladder calls in the middle of the night, no tuning in of radio under the winter-tog duvet, no sacrificing of social hours to watch the highlights on television.
On Saturday it became such a car crash that it became almost impossible to ignore. Even as sleep called, even as the logical part of the brain suggested switching channels to something more soothing like static or white noise, the sirens were wailing so loudly you could barely tear your eyes away.
There was a period, and not a brief one either, when it looked possible that England would fail to even match their lowest ever total against Australia of 45.
No comfort could be taken from the fact they had gone on to win that particular Test by 13 runs, even though it was on this very same ground. For one thing it was 127 years ago. For another it was on an SCG pitch prepared mainly by hungry livestock.
Walking round the ground, you could see the supporters who had made it all the way out to Australia riding the same emotional big dipper one after another.
There was little hope at the start, even less when England lost Alastair Cook to the second ball of the day not playing a shot, and no more when Ian Bell was dropped off the very next ball to a catch that would have lodged in Shane Watson's stomach if his fumbling fingers hadn't got in the way.
Next came anger - the impotent fury of one who has splashed out a couple of grand to watch an unimaginable Pomnishambles play out in front of their sunburned nose, the swearing at inanimate objects like a splayed set of stumps or the shouting at a cricket shot to go and do something both technically and biologically impossible.
Thanks to the many long years of practice, there was of course gallows humour - the moment Ben Stokes became the first of the seven batsman who had stood at the crease to reach double figures was met with the sort of cheers that used to denote a buccaneering century.
And then there was an almost comfortable feeling of total resignation, of no longer caring, of having seen so much that nothing mattered any more but getting it over with and then trying to forget any of it ever happened.
But it has, and in ways that should have been impossible. In a series where each day has brought fresh statistical shock, here are three newly minted numbers at which to wonder:
1.The aggregate score of all of England's first innings in this series is 969. The aggregate score of Australia's last five wickets to fall in the first innings is 1,071.
2.Five times England's top five batsmen have been out for a combined total of fewer than 20 runs.
3.When England are bowled out sometime in the next day and a half, as they certainly will be, it will be the first time in a five-match Ashes series they have lost all 100 wickets.
If this series were a dog it would have been put down a long time ago. Unfortunately for England, it staggers on to be kicked another day.