Paul Collingwood would love to join England set-up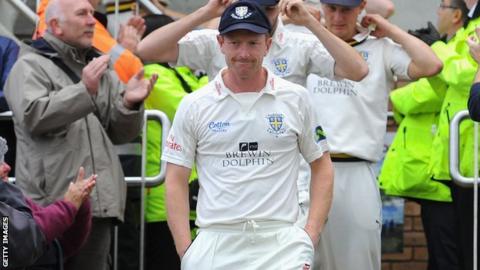 Scotland co-head coach Paul Collingwood would "welcome" the chance to join England's coaching team.
The Durham captain, 37, in New Zealand, which starts this month.
Ashes-winning captain Michael Vaughan has called for his former England team-mate, Collingwood, to join the set-up.
"I'm England through and through. I would love to be involved in some capacity," Collingwood said.
"I'm not too sure to be honest what I would add. I'm enjoying my role with Scotland.
"I've got a month with Scotland trying to qualify for the World Cup in New Zealand and Australia in 2015 and trying to make them into better cricketers and hopefully they're learning a lot.
"What I would add to the England team? Well, it depends what kind of role that you would get in there.
"I'm still playing at the moment for Durham, I've got one year left on my contract, so I'm just focused on that at the moment. I'm seriously focused on developing the youngsters coming through at Durham.
"If England came round and asked me to get involved, I would be absolutely delighted. If you get the phone call, it'd be very hard to turn down."
With England having lost the Ashes series 5-0, Collingwood has warned against a "knee-jerk reaction" and has backed coach Andy Flower and captain Alastair Cook.
"As a big England fan, it's obviously been extremely disappointing," he added. "You obviously want them to put up a big fight and they weren't able to do that.
"Australia kind of blew them away and you have to say that England didn't have any answers to the questions that the Australian bowlers were posing.
"Mitchell Johnson was fantastic and the impact he had throughout the series was incredible.
"The lack of runs was a major disappointment all the way through.
"I loved my years playing for England and, whatever I can do to help the team progress and become better cricketers, I would love to be involved, of course I would."