Ashes 2013-14: Ten key moments in Australia's 5-0 win over England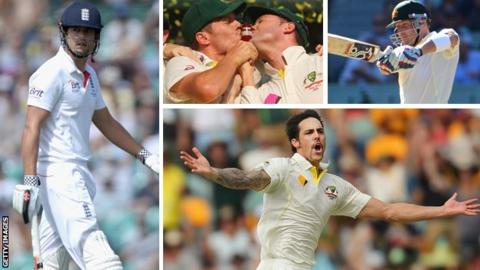 England owed their Ashes victory over Australia last year to an ability to win the key moments in often tight battles between two sides far more evenly matched than the 3-0 scoreline suggests.
Although the 5-0 whitewash Australia completed in Sydney on Sunday was an altogether more one-sided affair, there were still pivotal points at which each Test tilted in their favour.
Events off the field also conspired to help the hosts inflict one of the most damaging defeats in England's history.
Here are 10 moments that shaped the Ashes:
1. Australia appoint Lehmann
What happened: In late June 2013, Australian cricket was in total disarray. Having arrived in England after a 4-0 defeat in India, they finished bottom of their Champions Trophy group and were deprived of one of their key players when David Warner was suspended for punching England's Joe Root in a Birmingham bar. Just 16 days before the start of the Ashes, Cricket Australia sacked coach Mickey Arthur and replaced him with former batsman Darren Lehmann.
What they said: "Lehmann is an earthy, no-nonsense, old-fashioned Aussie. His attitude will be 'let's sit down, have a smoke and a beer and talk about it'. But if things are going wrong, he'll be in your face. Lehmann can be the glue that can bring everyone together." - Australian cricket broadcaster Jim Maxwell.
Why it mattered: Maxwell's prediction proved accurate as the tourists were gradually galvanised over the course of the English summer and were denied possible victories at Old Trafford and The Oval by the weather. Favouring an aggressive brand of cricket and targeting England's senior players, Lehmann masterminded a perfect revenge mission on home soil and oversaw the rehabilitation of Mitchell Johnson as Australia hit the tourists hard from first ball to last.
2. Brisbane - Johnson's first wicket
What happened: England were going steadily on 55-1 in reply to Australia's 295 all out and there was little sign of a threat from Johnson, whose first six overs cost 32 runs. But in the last over before lunch on day two, Jonathan Trott moved too far to the off-side to deal with a short ball from the left-armer and tickled an inside edge down the leg-side to Brad Haddin.
Why it mattered: Johnson, whose wayward bowling made him a figure of fun during England's 3-1 win down under in 2010-11, bowled like a man possessed as England lost six wickets for nine runs in 10 extraordinary overs after lunch to slump from 82-2 to 136 all out. The frailties in their batting line-up had been exposed and Australia were well on the way to a comprehensive victory in the first Test.
What they said: "It was decent bowling by Australia but the batting was pathetic. England have an 82-page booklet on what to eat but one guy comes in and bowls at 90mph and they can't handle it." - Test Match Special summariser Geoffrey Boycott.
Listen to highlights of day two from Brisbane
3. Trott leaves tour
What happened: After falling again to Johnson in the second innings following a frenetic nine-ball stay at the crease, Trott announced his immediate departure from the tour because of a long-standing stress-related condition. "I don't think it is right that I'm playing knowing that I'm not 100%," said the 32-year-old.
Why it mattered: England were deprived of one of their most reliable batsmen and senior players. Joe Root and Ian Bell both attempted to fill the void over the course of the series but neither was able to be the reliable rock Trott had been during England's 3-1 success down under in 2010-11.
What they said: "It would have been horrible for him to make that decision to come home but he's definitely made the right decision to take a bit of time off. The mind is an amazing thing that people are trying to understand and control. Jonathan's got to just take a bit of time to get back on track and get back happy again." - former England batsman Marcus Trescothick, who left the 2006-07 Ashes campaign because of depression.
4. Adelaide - Carberry's clanger
What happened: After losing the toss, England produced a solid opening day with the ball, only to be undermined by three dropped catches. The worst, and ultimately most expensive, arrived in the dying embers of the day when Michael Carberry somehow fluffed a straightforward chest-high chance at point to dismiss Haddin for five with the score on 266-5.
What they said: "That was a remarkable drop. That could have been a sixth wicket, which would have been the icing on the cake, but ifs and buts don't count." - Boycott
Why it mattered: Haddin's partnership with captain Michael Clarke was only worth eight at the time but the pair would go to add another 190 - each making hundreds as Australia piled up 570-9 declared.
Listen to highlights of day one from Adelaide
5. Adelaide - Cook out on the pull
What happened: Set a nominal 531 to win after Australia declared their second innings overnight, or needing to bat out two days for an unlikely draw, England made the most dispiriting of starts when captain Alastair Cook top-edged a reckless pull shot in Johnson's first over of the day to be caught by Ryan Harris at long leg for one.
What they said: "If there's any dismissal Alastair Cook wouldn't want against his name, it's getting out caught like that. He would have told England they needed better shot selection, but he's gone and done the complete opposite." - former England captain Michael Vaughan.
Why it mattered: Cook's dismissal to an uncharacteristic shot betrayed the scrambled mind of a man under more pressure than at any time in his career. Carberry followed his captain's example and was caught in the deep pulling Peter Siddle. Although Root, Kevin Pietersen and Matt Prior all managed half centuries, England were bowled out for 312 early on the final day to go 2-0 down in the series.
Listen to highlights of day four from Adelaide
6. Perth - the 28-run over
What happened: Australia, pushing for a declaration in their second innings, went on the charge on the fourth morning in Perth, hammering 134 runs in 17 overs. The most savage moment in a brutal onslaught came when George Bailey blazed 28 runs off a single James Anderson over, equalling Brian Lara's world record.
What they said: "Give Australia 10 out of 10 because they didn't have to play like this. They want to dismantle England and they have done just that. I don't think I've ever seen James Anderson destroyed in this manner." - BBC cricket correspondent Jonathan Agnew.
Why it mattered: If ever there was a moment which encapsulated Australia's total dominance, it was the sight of their least secure batsman taking apart the leader of England's bowling attack. Sensing England were on the ropes, Clarke declared immediately after the over and landed a sucker punch when Harris bowled Cook with the first ball of the innings to move the hosts one step closer to retaining the urn.
Listen to highlights of day four from Perth
7. Swann retires
What happened: With the Ashes gone, the nine-day gap between the Perth and Melbourne Tests should have offered England a chance to regroup. Instead they had to deal with another sudden departure as off-spinner Graeme Swann announced his immediate retirement from all forms of cricket. Swann, whose seven wickets in the first three Tests had cost 80 runs apiece, said he could no longer justify his place in the team.
Why it mattered: Following Trott's return to England, Swann's exit further unsettled the camp and deprived Cook of one of his most trusted lieutenants. Monty Panesar and Scott Borthwick were each given a single Test to stake their claim to Swann's place in the long term, but neither truly convinced that they were adequately equipped to replace England's best spinner in a generation.
What they said: "The dramatic departure of the man who was both the pivot of their four-man attack and the wise-cracking heartbeat of the dressing room marks decisively the closing of a cricketing chapter for this once all-conquering England side." - BBC chief sports writer Tom Fordyce.
8. Melbourne - Bell's golden duck
What happened: For once, England were in with a chance of victory after establishing a 51-run first-innings lead in Melbourne, but a disastrous second innings reached its lowest point when Bell pushed his first ball, from spinner Nathan Lyon, into Johnson's hands at mid-off, meaning England had lost three wickets for just one run.
What they said: "What is that? I can't believe what I've just seen there. Kevin Pietersen has had a lot of criticism for silly shots in this series, but that is a lot worse than anything Pietersen did. I'm absolutely staggered with that shot. There's no excuse. It doesn't stop in the surface, and Australia are right back in this Test match." - Vaughan.
Why it mattered: Bell's dismissal was confirmation that Australia had even got into the mind of the man whose three centuries provided the cornerstone of England's 3-0 win in the summer. From 87-4, England recovered to 173-5, but once again their tail imploded in a spectacular 41-minute passage of play as they folded to 179 all out. Australia reached 30-0 by the close, well on the way to their target of 231, which they cantered to for the loss of only two wickets.
Listen to highlights of day three from Melbourne
9. Sydney - Haddin saves Australia... again
What happened: Once again, England made short work of Australia's top order and, once again, Haddin proved himself to be Australia's man for a crisis. Coming in at 97-5 on a pitch offering variable bounce, he attacked from the off to score 75 off 90 balls and change the momentum of the innings.
Why it mattered: Haddin's 128-run partnership with centurion Steve Smith catapulted Australia to an above-par 326 and drained the last drops of confidence from England. Haddin became only the second wicketkeeper to score a half century in each match of a five-Test series and the first player to do it in the Ashes since Australia's Keith Stackpole in 1972.
What they said: "Haddin is my player of the series. It is just about possible that Australia would still have won the Ashes without Mitchell Johnson, but they could not have done it without the consistent contributions of Haddin at number seven." - Agnew
Listen to highlights of day one from Sydney
10. Sydney - Cook's fatal leave
What happened: England's best hope of a fightback in Sydney appeared to rest with Cook. But the touring captain was out to the second ball of the second day as he shouldered arms to a Harris inswinger and was pinned helplessly lbw on off stump.
What they said: "Alastair Cook's dismissal reminded me of when Andrew Strauss was out in his final Test. Strauss missed a straight one from Vernon Philander and you could tell he was gone. Just like Cook today." - Vaughan
Why it mattered: The dismissal signalled the start of an enthralling passage of play in which Australia's pace attack ruthlessly dismantled England's top order to leave the tourists in a wreck at 23-5. England never looked like recovering as Australia romped to victory inside three days, and with it a 5-0 series whitewash.