Ashes 2013-14: Where next for England after 5-0 whitewash?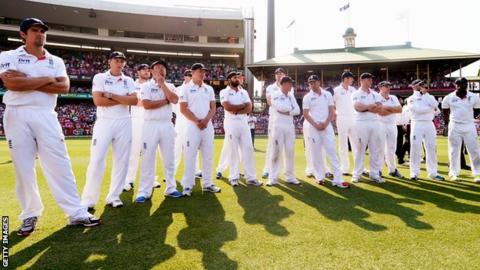 The trite answer to that headline would be anywhere but Australia.
After an Ashes humiliation that seems scarcely believable even to those of us who witnessed every ball, England's Test team are at their lowest ebb in 15 years - when defeat at home to New Zealand left them bottom of the world rankings, below even Zimbabwe.
But even in miserable defeat there is optimism.
Just six months ago, the Australia team that have just thrashed them five times in five matches were in arguably an even worse position: beaten 4-0 in India, finishing bottom of their Champions Trophy group, their opening batsman suspended for punching an opponent in a Birmingham bar, and the coach sacked just 16 days before the start of an Ashes series in which they would fail to win a game.
England can recover from here. But, just as Australia have done since hitting rock bottom in June last year, they must solve several critical problems.
The coach
After defeats this overwhelming, the temptation is to not only throw the baby out with the bathwater but also the taps, the loofa and the bloke who installed the boiler.
No-one should be surprised by the calls for Andy Flower to resign, just as no-one should be surprised that such a proud and determined man should want the opportunity to turn it around.
Flower has the perfect experience of dragging a team from the depths to the peak; when he took over as England coach, they had just been beaten by West Indies after a batting display as bad as anything seen in these Ashes.
"I hope Andy is with us," says his captain, Alastair Cook. "His record suggests he is a fantastic coach, he is a great man and his heart is in it to turn it round. I hope it is me and him that do it."
The key question is whether Flower's method and message are still making an impact with the current group of players.
Old pros talk about the point at which "new voices" need to be heard. That may mean a shake-up of the large support staff that Flower has, rather than the man at very top, but it seems certain that some change is inevitable.
Former England captain Michael Vaughan told BBC Sport: "What really disappointed me was when England won at The Oval, everyone was out there - the players, the backroom team.
"Not one of the back-room team was out there at the Sydney Cricket Ground on Sunday. When you lose, you lose as one.
"Andy Flower has not evolved this team as he should have done. This is the perfect time. Things have to change in personnel."
The captain
Alastair Cook's own form was a significant factor in England's struggles down under. Three years ago the opening batsman compiled a monstrous total of 766 runs; his aggregate for the series this time was a mere 246, 56 less than he managed in a single Test at the Gabba last time around.
Neither has his captaincy been spared criticism. He has been accused of being too conservative, too reactive and too tactically dogmatic.
That he is likely to remain in charge is down to two factors: the relatively short time he has held the permanent position (just over a year) and the lack of credible alternatives.
His vice-captain at the start of the series, Matt Prior, has been dropped. The stand-in deputy, Ian Bell, is not considered leadership material. Stuart Broad is the other option, but England have not been led in Tests by a bowler for more than a quarter of a century.
"I'm desperate to try to turn it round," said Cook after the 281-run defeat in Sydney. "I feel I'm the right man for the job.
"If I'm not, and people higher up want a change because they think that's the best way, then I'll have to take it on the chin. But in the dressing room I feel as if I'm the right man to do it."
The kingpin
Kevin Pietersen is England's most capped current player. He has the highest Test average of the current crop and was their leading run-scorer in the Ashes this winter.
Unfortunately, that only equated to 294 runs at an average of 29. For much of the time, Pietersen appeared a man apart - fielding at third man, or mid off, anywhere but in the heart of the team.
Vaughan believes Pietersen should be made vice-captain, the cricketing equivalent of the old maxim about being inside the tent with a bursting bladder rather than outside facing in.
"He is England's best player," said Vaughan. "He can make the biggest impact on the game but he is not involved in this team. If there's an issue there, get rid of him. If not, then involve him."
If promoting Pietersen is unlikely, England must still decide how best to use their most destructive batsman. If he is in the team, make full use of him. If you do not wish to do that, then should he really be part of the team at all?
The wicketkeeper
After a series in which Brad Haddin took 21 catches and scored 493 runs at an average of 61 - making at least a half-century in the first innings of every single Test - the contrast with England's underperforming stumpers is not a flattering one.
Prior was rested after making just 101 runs at 17 in the first three Tests, his glovework also suffering as his batting fell apart. But his replacement, Jonny Bairstow, fared even worse, scoring a paltry 49 runs at 12 and failing to impress behind the timbers.
With Sri Lanka arriving in England for a two-Test series in May followed by India for five Tests, who should wear the gloves this summer? A refreshed Prior, a still relatively untried Bairstow or the bright young thing Jos Buttler, who has impressed so much in the shorter forms of the game?
"It has to be Prior," says Test Match Special analyst and former Middlesex seamer Simon Hughes.
"I don't think Buttler is ready, although he may be in a year - he is technically inadequate both with the gloves and the bat.
"Prior is a fantastic cricketer. I love his commitment to the team, the way he helped others after he was dropped in Australia. He will come back, because he is too good not to."
The spinner
After an Ashes series in England in which Graeme Swann took more wickets than any other bowler, this has been an Ashes where Australia's twirlers have made the tourists' look benign at best.
The five spinners tried by England, part-time or otherwise, took 14 wickets at 72.42 in the series. Australia's spinners (Lyon and Smith) took 20 wickets at 30.80.
Swann retired after Perth. Monty Panesar struggled in Adelaide and Melbourne. Simon Kerrigan went wicketless for 53 from the eight overs he was given in his only Test at the Oval last August; Scott Borthwick went at seven an over in the first innings in Sydney before picking up three wickets as Australia slogged in the second.
"That's a big issue," says Hughes. "Shane Warne told me that he thinks Panesar would have bowled well at the SCG, and also thinks that Borthwick has something about him.
"I'm not convinced about Panesar any more. He's becoming more and more apprehensive about his bowling. In Adelaide and Melbourne he did not have the rhythm he used to have.
"He's not as good a bowler as he was two years ago, and he doesn't offer you much else - he's a bit of a handicap with his batting and fielding.
"Borthwick didn't bowl well in the fifth Test, but it was his debut, and I'd like to see a bit more of him.
"I certainly wouldn't pick him for England in the summer. He needs to bowl more for Durham; he needs to bowl in more situations, and learn about his bowling and different conditions.
"Joe Root and Pietersen together could do a good job as spinners. That combination with Ben Stokes as your fourth seamer is a useful attack.
"They don't have anyone to spin the ball away, but if they work with Borthwick, I think he's promising, even if he is a bit too raw at the moment."
The pacemen
This was the season of the Mitch.
Johnson's 37 wickets in the series are the most for Australia in a five-match Ashes series in Australia, beating Arthur Mailey's 36 in 1920-21; Ryan Harris's 22 wickets at 19 would have been enough for his strike partner's man of the series award in many other years.
England, by contrast, brought three tall pace bowlers, saw Chris Tremlett bowl harmless medium pace in Brisbane, had poor Boyd Rankin return match figures of 1-81 in Sydney (his solitary wicket came with what might have been his last ball in Test cricket) and failed to use Steven Finn even once.
Only Stuart Broad, with 21 wickets at 27, performed to his reputation. Finn, from all accounts, is falling apart, his action gone, his accuracy destroyed, his morale at barrel-bottom.
"I would give Finn two months off," says Simon Hughes. "Stop thinking about cricket. Go and hang out with your mates and support Watford for a bit, although that might actually make him gloomier at the moment.
"Go away and forget about the game. Forget about action, about foot positions, and then when he comes to bowl again - just try to pitch the ball up and hit the stumps.
"The main reason bowlers struggle, assuming they have ability, is because they lack confidence. Batsmen get out when they're tentative, and it's the same for bowlers.
"He has all the attributes he needs: he is fit, tall, lithe, has pace and is accurate. It just needs rediscovering."
The tactics
This England team got to the top of the world rankings by playing tough, defensive cricket: dry up the runs in the field, wear down the opposition when batting.
That strategy was made to look one-dimensional by an Australia side that rediscovered the aggression and relentless competitiveness that has defined so many of their best teams. England could neither score the runs (five times they failed to total 200 in an innings) nor take the wickets they needed to dictate as of old.
"England play too much by numbers and not enough by instinct out in the middle," says Vaughan.
"I'm not sure England's gameplan has been about beating the best team of the current era, which is South Africa. They have not been at the races."
Those in charge
Even before the brutal whitewash of the last six weeks, change was already in the air for the England senior set-up. James Whittaker is replacing Geoff Miller as chairman of selectors; Paul Downton officially takes over from the departed Hugh Morris as managing director on 1 February.
Suddenly there is great weight upon their shoulders.
Whittaker (a one-cap wonder himself as a Test batsman) has been a selector since 2008, although seldom in that time did he face the number of problems and paucity of resources he has now.
On his to-find list (and this is not exhaustive) is the following: a long-term opening partner for Cook; a new number three to replace the indefinitely on leave Jonathan Trott; the wicket-keeping dilemma; the spinner issue; the problem with Finn.
For Downton, there is irony that his post was only created as a result of the preceding Ashes Pomwash of 2006-7.
The former England wicketkeeper even has first-hand experience of being on the wrong side of whitewashes himself, his 30 Test caps including both 5-0 hammerings from West Indies in the mid-1980s.
Those who played with him at Middlesex and in the national side, or worked with him in his subsequent career as a stockbroker, describe him as a laid-back people-person who can also get things done.
Not naturally confrontational, he nevertheless forced through several key changes during a long stint on the Middlesex committee.
But his task ahead is of an entirely different magnitude, and his decisions, as much of those of Cook on the pitch, will decide whether this Ashes series is the start of a stirring fightback, as was Australia's last summer, or the beginning of a chastening new pattern.