'Keep senior players at heart of England to help recovery'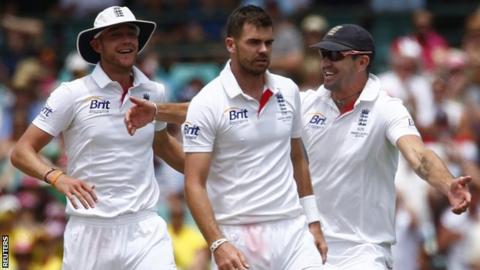 England's performance in the Ashes series was nothing short of appalling.
To go from winning 3-0 to losing 5-0 against Australia in the space of a few months must rank as one of the most devastating downturns in the history of sport.
Clearly England have to change things. They need to analyse what went wrong and then have a plan for how to get back to winning ways again.
But I am not in favour of the total overhaul some people are calling for.
We love a reaction when we get beaten in sport. "Let's sack everyone, let's start again, let's bring in all the youngsters." You see it every time England get knocked out of a major football tournament.
The most successful transitions are much more delicately handled. They involve making tough decisions but still building around a core of established players.
Look at Australia. Coming into the Ashes down under, they had not won in nine Tests after a 4-0 loss in India and 3-0 defeat in England.
But they kept faith with most of their senior players, found a stable and settled line-up and turned around their fortunes.
Every team needs to have a spine around which you can bring in young, talented players to learn from the senior players.
For that reason, I would retain Andy Flower as coach and start to rebuild around captain Alastair Cook, Ian Bell, Kevin Pietersen, Matt Prior, Stuart Broad and James Anderson.
I would want the talent and experience of those six players to be at the heart of England's revival.
Crucially, though, I would first sit them all down individually, look them in the eye and ask them if they still have the desire, hunger, fight and passion to play for England, not just for the next 12 months but for the next two years.
That would take in the Ashes in England in 2015 and the 2015-16 tour of South Africa, because those are the series England should already be planning for.
England need their senior players to make that commitment and then, most importantly, back up their positive words with performances. If they can guarantee that drive to try to right the wrongs, they are still all capable of getting back to the high standards they have reached in the past.
To complement that core, England have a handful of players who have already demonstrated they have the aptitude for Test cricket, but must now be given the chance to show they can deliver on a consistent basis.
Ben Stokes was by far the biggest positive to come out of an otherwise dismal series. He has shown he is comfortable in the international arena and produced excellent performances with bat and ball. If he can build on what has been a very promising start to his Test career, then England have a special talent.
Joe Root has just experienced the kind of hiccup many players experience early in their Test careers, partly in my opinion as a result of being thrust to the top of the order too early. He should have been allowed to develop his game from number six. But I have no doubts he will come through and prove he is good enough to have a lengthy and successful Test career.
Garry Ballance will have gained a lot from his experience in Sydney, especially having walked out to bat at 17-4 to be confronted by some of the most hostile bowling he will have ever faced.
Both he and Root now need to go back to Yorkshire, start scoring heavily again and make sure they are worthy of a place in the squad for the first Test against Sri Lanka in June.
Steven Finn is another player England badly need to rediscover his best form, because when he is firing he is a real handful, can touch 90mph and complements the skills of Broad and Anderson.
Finn's coaches, whether that is Andy Flower and David Saker in the England set-up, or Angus Fraser and Richard Johnson at Middlesex, need to work with him and get his confidence and technique back up to the level where he can be a force in Test cricket and go on to lead the attack in years to come.
England will also be looking to the county scene for new players who can be introduced to the set-up and start to make an impact over the next 12 months and beyond.
Two of the most promising candidates in the batting department are Sam Robson at Middlesex and Alex Lees, whom everyone at Yorkshire is raving about.
In the bowling areas, Chris Jordan at Sussex and Somerset's Jamie Overton are worthy contenders. Both have the kind of pace that England were missing in Australia, while Jordan is also capable of batting as high as number eight.
If it's sheer, naked pace the selectors want then Tymal Mills is the man, but first he needs Essex to pick him in their team regularly.
The biggest issue for the England selectors is the lack of a quality spinner following Graeme Swann's retirement.
We have known for some time that the cupboard was pretty bare once Swann called it a day, and the fact Monty Panesar was left out in Sydney suggests the England hierarchy are planning to go in a different direction.
It may be that England will have to go into the summer without a specialist spinner, and rely on batsmen who bowl, like Root and Scott Borthwick, to provide the slow-bowling support to the seamers.
Taking this approach for the home series against Sri Lanka and India, and the West Indies tour in April 2015, may just allow time for someone like Azeem Rafiq at Yorkshire or Zafar Ansari at Surrey to develop their talents to the level where they can become the long-term successor to Swann.
England now have a great opportunity to start growing the next generation, but I must reiterate that does not mean finding 11 brand new players for the summer.
If they build around a nucleus of senior players, who are fully committed to the cause, I see no reason why England can't win back the urn in 2015.