Kevin Pietersen not a great player - Phil Tufnell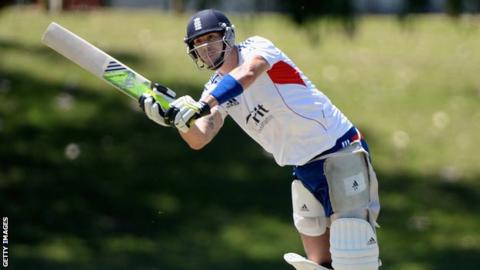 Phil Tufnell believes Kevin Pietersen's poor shot selection prevents him from being "a great player".
The former England spinner criticised the manner of the 33-year-old batsman's dismissals during the 5-0 Ashes whitewash against Australia.
"He's a good player who's played great innings, but great players wouldn't have played the shots he has throughout this series to get out," said Tufnell.
Pietersen says he wants to help England regain
He finished the latest series as England's leading run scorer with 294 runs at an average of 29.40.
But, speaking on BBC Radio 5 Live's Tuffers and Vaughan Cricket Show, Tufnell argued the South African-born player failed to show maturity by only twice reaching a half century, with a top score of 71.
Tufnell cited Pietersen's performance in the third Test in Perth, where he looked set for a big score after amassing 45 runs in the second innings, as well as the second Test in Adelaide, where he was after out for just four in the first innings.
"At Perth, he hits one ball over long off for six and then, the next ball, he hits it straight down the fielder's neck," said Tufnell.
"He comes in at Adelaide and you're saying, 'come on Kev, get us out of this hole', but he comes down the wicket and flicks Peter Siddle to one of the two men on the drive at mid-on.
"Why is he doing that? Great players wouldn't have played those shots."
Former England captain Michael Vaughan defended Pietersen's attitude and style of play, calling him "a genius".
"You have to give the likes of Pietersen, with the ego and the flamboyancy, the freedom to play," said Vaughan.
"You have to allow him to play in that fashion as that's when he's at his best. He averages 47 in Test match cricket. He is that type of player.
"As much as he's got out playing terrible shots throughout his career, he's a genius.
"In the Melbourne Test, he applied himself better than he has done in a long, long time. He scored 120 runs in the match and that's the Pietersen I like.
Vaughan also urged England's management to embrace Pietersen's approach as the team look to rebuild with Test series against Sri Lanka and India later this year.
"If you look down the team, a lot of the batsmen play a nice, solid brand of cricket and to take the game forward," he said.
"You need players like Pietersen. You can't have everyone playing like Jonathan Trott, Alastair Cook or Joe Root. They're all too similar."