Kevin Pietersen and Andy Flower are in dispute - Michael Vaughan
Last updated on .From the section Cricket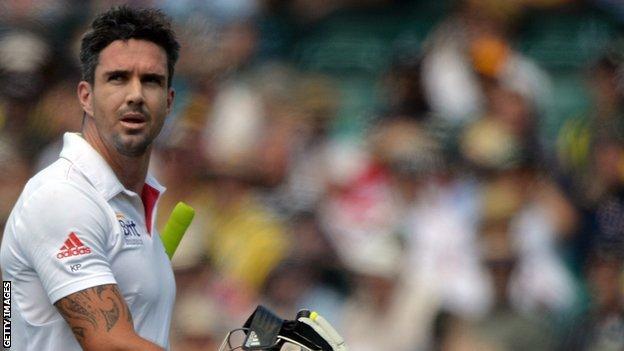 Former England captain Michael Vaughan is convinced there is an issue between England coach Andy Flower and Kevin Pietersen.
On Wednesday, Flower denied he issued an ultimatum that would see either him or Pietersen, 33, quit the team.
But Vaughan says the England and Wales Cricket Board (ECB) and Pietersen should "bang their heads together" to ensure they remain in the setup.
He said: "There's clearly an issue between Kevin Pietersen and the team."
In an interview with BBC Radio 5 live, Vaughan added: "Andy Flower has seen all the headlines. He might not have said exactly what is reported, but there is clearly an issue between him and Kevin Pietersen.
"The best player, the maverick, the X-factor player is stood on the boundary during games. He is never involved in any of the team discussions."
Flower has committed his future to English cricket and Pietersen stated he has no intention of quitting Test cricket.
The batsman said: "I wish to repeat my strong desire to continue playing for my country and to help us regain the Ashes in 2015."
Now Vaughan, who captained Pietersen during England's 2005 Ashes win, is calling on the ECB to demand the pair hold a clear-the-air meeting.
He added: "Give it a week or so and take a little bit of time to breath, then have a mature meeting.
"Let's get them both together and try and get English cricket moving forward because it will be a great shame if Kevin Pietersen never represents England again.
"The dust needs to settle, then people need to bang heads together and get them in a room together and get it sorted out.
"It would also be a shame if the management can't manage that sort of person to make sure he is an important member of the side. They need to give him a bit of responsibility and say, 'right we need you until the end of 2015. We want to get these Ashes back'.
"The two can carry on. Both of them and the team need space away from each other because it has been such a pressurised tour."
But former South African captain Clive Rice is convinced Pietersen is being made a scapegoat for England's Ashes humiliation and fears he may not return to the Test arena.
Rice, 64, played a key role in bringing South African-born Pietersen to England when persuading him to join Nottinghamshire in 2001.
All-rounder Rice had spent 12 years with the county from 1975 to 1987, twice leading them to the County Championship title.
He revealed he spoke to the batsman early in the Ashes.
"I told him to make sure he performs because he will be made a scapegoat if England lose the series," BBC Radio 5 live.
"Certainly my predictions to him are coming true right now because they are looking for an excuse for the losses and I think you can't kick out your best player because of that."
Rice feels Pietersen has been singled out because of his unwillingness to conform to the ECB's rules.
He added: "They may think if they do that, they can have everyone acting as they want them to do," he added.
"But he is the match-winner and a world beater, and you can't just ignore his talents."
He lost the captaincy of the England team when he demanded former coach Peter Moores was removed from the England setup in 2009.
And he was dropped from the team in August 2012 after sending text messages to South African players that were reportedly critical of then captain Andrew Strauss.
Vaughan added: "Kevin has had problems in the past and I'm sure there will be things come out about this tour that will relate to Pietersen and I am sure, at times, he will have been a bad influence around the team.
"But he can't be the only one. It can't just be Kevin Pietersen's fault that the team were hammered 5-0. He got more runs than anyone else. He played Mitchell Johnson as well as anyone - none of them played him well.
"I think it is sad we can't get the best out of someone like that. It would be a great shame if the one player that people would turn up to watch him play, and the one player that excites crowds for good and bad reasons, he never plays for England again."
Vaughan also suggests Pietersen will need to make changes to his own persona if he wants to remain in the England line-up.
"Kevin will have do things differently but mainly it is the management that will have to change how they deal with that kind of character," he added.
Captain Alastair Cook is being urged by Vaughan to get involved in the dispute as part of a push to take more control of the England side.
"Cook needs to say, 'This is my team, this where we want to go, this is how we want the team to play', and then go and pick the players to play that brand. I really think Alastair Cook has a big role to play in this."