Glamorgan coach Toby Radford targets Championship promotion
Last updated on .From the section Cricket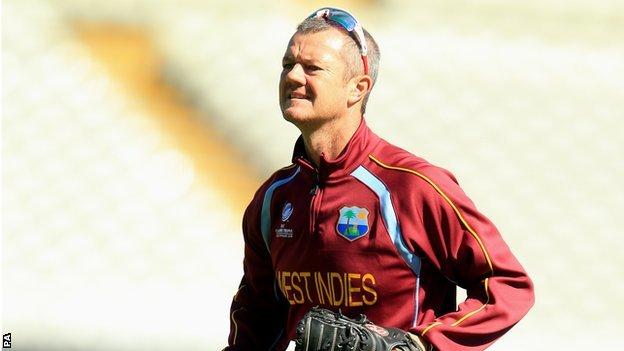 Glamorgan should be targeting promotion to the first division of the County Championship this year according to new coach Toby Radford.
The Welsh county have not played in the first division for nine years following relegation in 2005.
But former West Indies batting coach Radford believes there is enough quality in Glamorgan's squad to achieve promotion.
"Promotion in the Championship's got to be key," Radford said.
"That's what I've said from day one here - to look to get into the first division of the County Championship.
"I think that's important. It's a big club with a huge fan base and it's a Test ground and it should be in first division cricket.
"We've got some big name players and I'm sure that's where we should be and want to be."
Caerphilly-born Radford was appointed Glamorgan coach following the departure of Matthew Mott, who was in charge at the club for three seasons.
The former Middlesex and Sussex batsman says Glamorgan have a good mix of experience and youngsters ahead of the new season, which begins in April.
"Michael Hogan's an outstanding bowler, Jacques Rudolph coming in is an international batter, Jim Allenby [was] exceptional last year, Murray Goodwin's scored runs for the last 20 years," Radford added.
"And we've got good young players coming through, exciting young players.
"Young [Andrew] Salter as an off-spinner, I like the look of Rory Smith of what I've seen of him this winter as a potential all-rounder.
"The key thing is that the young players learn from the senior players and we build a squad.
"We don't want all young players and you don't want all older players. You want that mix."