Ashes 2013-14: Matt Prior admits England let standards slip
Last updated on .From the section Cricket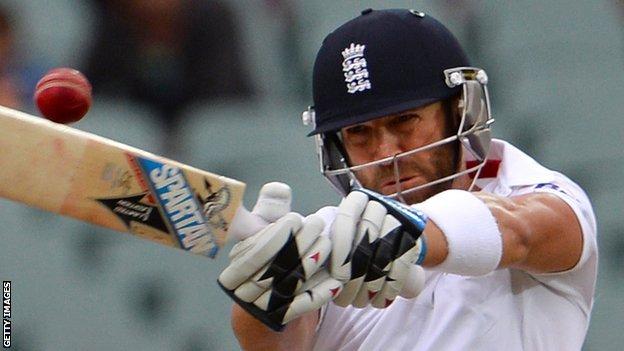 Matt Prior admits England lost the Ashes in Australia because they neglected the "little things" and let standards slip.
The 31-year-old wicketkeeper suffered from calf problems on the tour and was dropped for the final two Tests as England were thrashed 5-0.
"We let a few things slide," he wrote in the Daily Telegraph.
"Little things like wearing the right kit, turning up to meetings on time, not five minutes late."
He added: "They appear to be trivial issues to those on the outside but they are important when building a team environment.
"We talk about the little things that can make a big difference when added up. It is always those that go first and we were not quick enough to realise that."
Former Sri Lanka spinner Muttiah Muralitharan called England's performance "amateur".
He said: "Australia played really well, but I think England didn't put up a fight after the first Test.
"Their morale was low and they never recovered.
"The last two Tests, they looked like an amateur team and I think it will take a long time for them to build a team like the one that reached number one in the world."
It was only the third 5-0 scoreline in Ashes history and came after England went into the series as favourites and against a side beaten in seven of their previous nine Tests.
Prior suffered a calf injury in the warm-up match against Australia A at Hobart in November. He struggled for form with bat and gloves during the tour and scored just 107 runs in three Tests at an average of 17.83, taking 10 catches.
He added: "It all goes back to the dressing room and making sure that environment is right and on this tour I think we let it slip a bit.
"It is about the respect you have for your team-mates, coach and captain.
"In any team you have to have strong values and beliefs and we need to start again and rediscover those before we can move forward.
"Sometimes it can slip without you noticing and only become clear in hindsight when it has all gone wrong.
"Were we honest enough? Did we address the problems? It has got to the stage where we have sunk to rock bottom and the brutal honesty has to come back."
Prior, who was replaced as wicketkeeper by Jonny Bairstow for the fourth and fifth games of the series after playing in 60 consecutive Tests - a run stretching back to Barbados in 2009 - admits the tour was the worst of his career.
But he says he still has a future with England and backed captain Alastair Cook and coach Andy Flower to oversee a revival in fortunes.
Prior added: "It is quite exciting that we can start again and we can say 'this is a clean slate, where do we want to go?'
"It's great that Alastair and Andy want to lead that process.
"Cook has taken a lot of criticism and that will always be the case when you lose 5-0. He knows that, but he was let down by his players."