Kevin Pietersen: Alastair Cook will not be drawn on batsman's future
Last updated on .From the section Cricket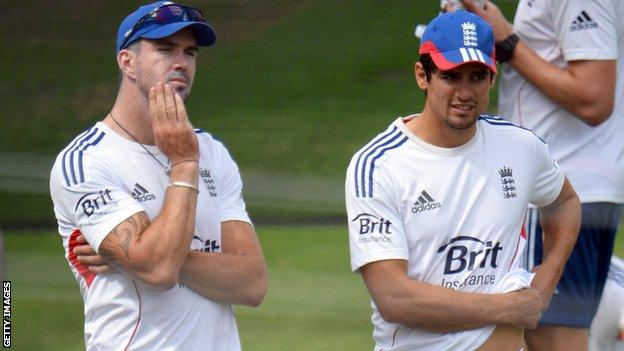 Captain Alastair Cook has refused to be drawn on the future of England batsman Kevin Pietersen.
But asked whether he wanted the 33-year-old to help regain the Ashes in 2015, Cook said: "It's a hard thing for me to answer at this precise moment.
"A lot of thinking needs to be done on the way we go about our cricket and the way we want to go forward."
He added: "We've all had a very tough time. We're going to have to let the dust settle on everything. If I gave one player reassurance there could be [up to] 10 players who want that... it's unfair for us to do that."
England coach Andy Flower this week issued a statement denying he had given an ultimatum over Pietersen's future.
It followed reports he would resign if Pietersen remained part of the England set-up.
Cook, who remains a loyal supporter of Flower, wants to continue their partnership.
"He's a fantastic coach with a very good record," said Cook.
"He has to really want to carry on and, just seeing what he's said in the media, he desperately wants to do that, so that's great news for us - we've got a lot of hard work ahead of us."
Any immediate decision about the future of Pietersen - or any other player - seems unlikely, however, as England seek to rebuild following Graeme Swann's retirement and Jonathan Trott's early return home from Australia with a stress-related illness.
"It's very important the leaders of this side take their time to make the right decisions because knee-jerk reactions are not what's required," said Cook.
"It needs a lot of thinking and most importantly we need to get English Test cricket back on track.
"We have been a good force for five years, we've had a tough three months - that's hard to take - but we've got a lot of good cricketers in England and you have to start looking to the future as well."
This summer England take on Sri Lanka in a two-Test series, beginning on 12 June, before five Tests against India.
Before then, Flower may want England's leading players to fight for their international places by performing well for their counties.
This may conflict with Pietersen's ambitions to play in the Indian Premier League (IPL).
While he has been released by the Delhi Daredevils, he will be a free agent for the players' auction on 12 February where he could attract a lucrative contract.
This year's IPL tournament runs from 8 April to 30 May.
The agreed cut-off date for IPL players to return to England is 13 May, which would give Pietersen - who has only played in nine one-day internationals since February 2012 - seven days to prepare in home conditions for the one-day international series against Sri Lanka.