Women's Ashes 2014: England wary of overconfidence after win
Last updated on .From the section Women's Cricket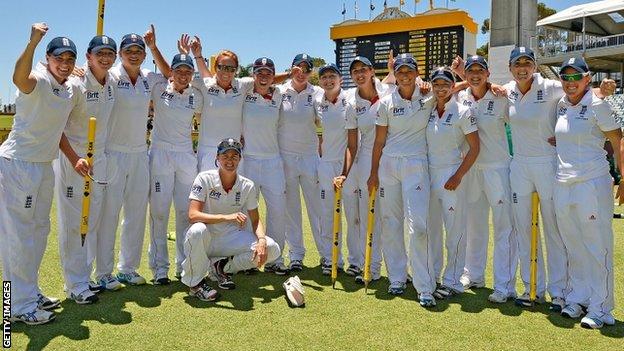 England captain Charlotte Edwards said her team will not underestimate Australia's powers of recovery in the Women's Ashes despite taking a 6-0 lead on points in the multi-format series.
"This is not the Ashes won," said Edwards. "They are a great team who are quite capable of coming back. But we've got the momentum with us at the moment and we've got to keep it."
England's 61-run win in the one-off Test in Perth leaves Australia needing to win five of the six limited-overs matches to regain the Ashes.
England's quest to retain the trophy will resume on 19 January with the first of three one-day internationals, which are followed by three Twenty20 internationals.
Last summer on home soil, England trailed 4-2 on points but fought back to win five limited-overs games in a row for a 12-4 series scoreline and Edwards believes Australia are capable of going on a similar run.
"We've got to win more games now," said Edwards. "We have to keep working hard and hopefully that will see us through and take the Ashes home.
"We'll enjoy this because these days don't come round very often, but we will be firmly focused on that first ODI."
Australia began the final day of a see-saw Test match on 57-5, needing 185 to win, and quickly advanced to 96-5 as Ellyse Perry hit an early flurry of boundaries.
But Anya Shrubsole made the breakthrough when she removed Perry for 31, taking two further wickets before Katherine Brunt returned to finish the match by bowling Sarah Elliott for 29 with an inswinging yorker.
Edwards added: "The last four days have been a rollercoaster, but I'm really proud of the girls.
"They actually came out quite hard at us this morning, which we weren't quite expecting. We leaked too many boundaries and they played well.
"But you always felt you were in with a chance of two quick wickets. With how the game had unfolded up until then, wickets always seemed to fall in clusters, so I didn't panic too much, although it was a bit of a shock.
"But to finish it in the fashion we did, for Anya to take the ball in the way she did and deliver a spell like that - I wasn't expecting it to be over by 12 o'clock."
Australia were left to rue missed opportunities after England recovered from 32-3 in the first innings and 10-3 in their second to post totals of 201 and 190 in a low-scoring Test.
Southern Stars captain Jodie Fields said her team were capable of fighting back in the series.
"It was a great Test match to be a part of, but unfortunately we didn't come out on top," she said.
"We've got a great team and I didn't think we played to 100% of our ability but hopefully we can bounce back. We know there's lots of fight and lots more matches to win here."
Australia's chances are not helped by a points format which values a victory in the single Test three times higher than a limited-overs win.
Former England captain Clare Connor defended the system, which was first used in England last summer, as well as the decision to start the series with the Test.
"We wanted to preserve the importance of Test cricket," Conner, the ECB's director of women's cricket, told BBC Radio 5 live.
"Six points for a one-off Test is a huge amount at stake but we really wanted the team on top to have done well in the Test match.
"The danger of playing the Test match last is that it could be a dead rubber."
Connor believes an England victory would help the game to grow further in the country.
"The Women's Ashes hashtag was trending on Twitter for all four consecutive days of the match - I'm sure that is fairly unprecedented for most women's sport.
"This is huge opportunity to really capitalise on and if we retain the Ashes we will make sure we plug the women's game at all levels when the girls come home."