Steven Finn absence from England side shocks Brett Lee
Last updated on .From the section Cricket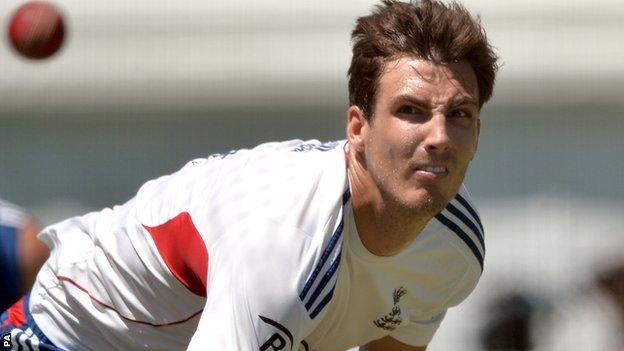 Former Australia fast bowler Brett Lee says he is shocked by Steven Finn's continued England absence.
Middlesex pace bowler Finn, 24, was the only member of England's original 17-man Test squad not to feature in the Ashes and did not play in the opening one-day defeat by Australia on Sunday.
"He's a quality bowler," said Lee. "I know they are not saying he's not a quality bowler but he's not been given the opportunity.
"I've been shocked he hasn't played."
Finn has taken 90 wickets in 23 Tests but has not played in the longest form of the game since the first match of the home series against Australia at Trent Bridge in July.
Of all bowlers to have sent down a minimum of 2,000 deliveries for England in Tests since 1959, Finn's strike-rate of 48.3 is bettered only by Simon Jones.
He took 11 wickets in his two first-class tour matches down under, but an economy rate of 4.44 was a contributing factor in his non-selection for the Test side.
Despite previously being a regular in the one-day side, he missed the six-wicket defeat in Melbourne and the 172-run win over a Prime Minister's XI in Tuesday's warm-up match.
Lee, who captained the Prime Minister's XI, added: "I can comment on this because I was on the sidelines for 18 months in Test cricket. You've just got to be ready to go.
"I know it can be very tough to bowl in the nets day in, day out. It will be tough for him to go out there and hit his areas straight up.
"I hope for his sake he gets a run [during the one-day series]."