Steven Finn needed 'putting out of his misery', says Jonathan Agnew
By Andy Cryer & Luke Reddy
BBC Sport
Last updated on .From the section Cricket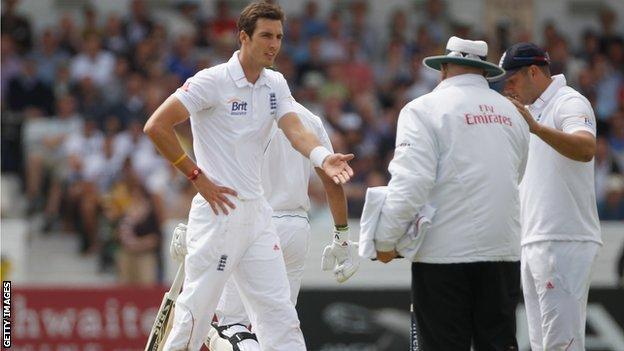 Steven Finn has gone from one of England's brightest bowling prospects to a cricketing outcast after being sent home early from England's tour of Australia.
BBC cricket correspondent and former England bowler Jonathan Agnew believes it was the right decision to end his tour but insists the Middlesex paceman should not be thrown on the scrap heap for good.
"The last memory I had of the tour was of him running in to bowl into empty nets," says Agnew.
"The ball was coming out medium pace with no venom. I just thought the guy needs to be put out of his misery.
"I thought he can't carry on like that. He needs a total break. I was very relieved when I heard he had gone home."
Finn, who has taken 90 wickets in 23 Tests, was the only member of England's 17-man Test squad not to feature during the 5-0 Ashes whitewash and has not played Test cricket since appearing in the first match of the home series against Australia at Trent Bridge in July.
Explaining the decision to send 24-year-old Finn home, England one-day coach Ashley Giles said the player was "not selectable at the moment" and leaving was "for his own good".
It is all a far cry from 2010, when Finn burst onto the international scene and made an immediate impact.
Of all bowlers to have sent down a minimum of 2,000 deliveries for England in Tests since 1959, Finn's strike-rate of 48.3 is bettered only by Simon Jones, a key member of the side which won the Ashes in 2005.
Agnew agrees Finn has been "unselectable" but believes England still need him if he can "clear his head" and rediscover his best.
But he also warns the England management that they need to come up with another plan to help Finn hit top form again.
"They have to be very careful how they treat him because what they have been doing is not working," says Agnew.
Former England captain Mike Brearley, now a psychoanalyst, believes Finn is still a "great prospect" but says a break could be beneficial.
"As far as I know, Steve Finn is a great trier, but he may need some time away," says Brearley. "He's been in the nets for some time and that must have been discouraging for him.

"It's demoralising enough if you are left out of the Test matches, but there are so few warm-up games that you don't play there either. He's played a couple of games in three months which is slim rations."
Angus Fraser, Finn's director of cricket at Middlesex, says he needs to "fall back in love with bowling" and has given him time off before beginning the process of restoring the paceman to his former self.
So why has Finn gone from shining star to England exile?
Agnew believes attempts to change his run-up are a key factor.
Finn occasionally used to break the stumps during his delivery stride, prompting umpires to declare a dead ball.
But when the Laws were changed, following complaints from South Africa skipper Graeme Smith, such an incident was ruled a no-ball.
"They had to change his run-up because he knocked the bails with his knee," says Agnew.
"Graeme Smith started it all off when he started complaining. It was all mind games, but it brought about a change in rules. The change in rules was all a nonsense really. From that point, things started to go wrong."
If Finn is to get back on track, Agnew says lessons should be learned from the problems experienced by James Anderson, who also tried to change his technique on advice from then England bowling coach Troy Cooley.
After three years of poor performances, Anderson, now England's leading one-day wicket-taker, reverted to his original approach.
"The best bowlers in the world don't have to have perfect action," insists Agnew. "Just let them bowl naturally."
Former Australia pace bowler Jason Gillespie says questions have to be asked about Finn's selection for the Ashes tour of Australia.
"He never looked in the frame," says Gillespie. "He was selected, but something must have happened since because I cannot remember the last time I saw him bowl in a game. So what has happened?"
Gillespie, now coach of Yorkshire, says Finn's confidence will be "shot" but thinks he can come back.
"The most important thing here now is the person," says Gillespie. "Get that side of things right and he will be OK."
Fast bowling coach Ian Pont, who worked with a teenage Finn during a spell as national skills coach with the England & Wales Cricket Board, is concerned his former charge's troubles run deeper.
"When people develop mental problems with bowling, that can start with a technical flaw," says Pont. "It's like a dripping tap that you ignore because you think it will be fine.
"In some cases, it is fine, but it can also lead to a flood and then the ceiling caves in. It seems to me that Finny has caved in a little.
"After three months in Australia, it's unbelievable to think we couldn't get him up to standard. Something is clearly not right and questions need to be posed about the environment around him."
Agnew insists Finn is not alone in suffering a dip in form and agrees the bowler needs time away from the sport.
"I suffered like this," he says. "I had a few days off not thinking about cricket and then got back into the nets, running in as hard as I could without any marked run-up, hitting the crease as hard as I could and just let the ball go as fast as I could.
"Sometimes you have to go down to basics. The most important thing now, though, is to get away from cricket, go on holiday for a fortnight and clear his head completely."
Agnew describes England bowling coach David Saker as "very good" at his job but thinks a new approach is needed.
"Sometimes no matter how hard you try as a teacher and how hard you try as a pupil, you can reach a saturation point where nothing goes in," says Agnew.
"You can understand why David Saker was tirelessly working with him in the nets, but I'm not sure that was the right thing to do. It might have been better to go away for a few days. Maybe it has been too intense."
Agnew adds that Finn may think he has "let people down" but insists he needed to ignore those thoughts.
"He will feel a black mark has gone down against his name, but he needs to forget all that, go home and have a complete breather," says Agnew.