Mitchell Johnson 'not feeling sorry' for England captain Alastair Cook
Last updated on .From the section Cricket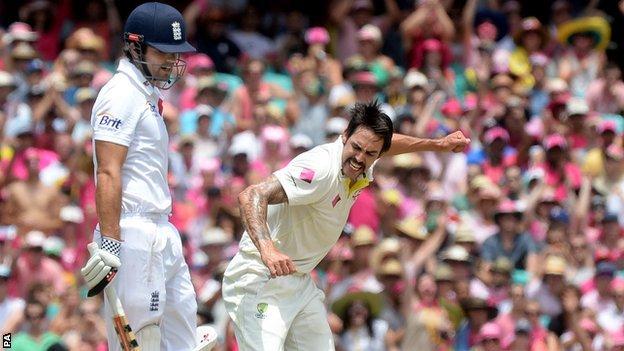 Australia paceman Mitchell Johnson says he has little sympathy for the troubles of England captain Alastair Cook.
"I don't think I'm going to feel sorry for an opposition player," said Johnson, who was Australia's star as he took 37 wickets in the series victory.
"We all go through our highs and lows and I understand that and have been through it like any other cricketer."
Cook scored just 246 runs in 10 innings during the Ashes, and was dismissed for four as England were beaten by Australia in the first of five one-day internationals.
He also managed only one in a game against the Prime Minister's XI on Tuesday, England's first win on the tour for two months.
"It's definitely very tough for him at the moment," said Johnson, who is set to return to the Australian side for Friday's second ODI after being rested for the opener.
"Obviously everyone looks up to their captain so I'm sure he's finding it very hard at the moment.
"There's a lot of pressure on him and he's definitely feeling it."
Meanwhile, former England captain Mike Brearley, who led England to a home Ashes win in 1981, says he believes time away from the game can help Cook.
"He is having an exceptionally hard time. He can't score the runs that he usually scores and it's relentless defeat after defeat," Brearley told BBC Sport.
"To keep one's chin up without getting intense and tense and anxious is almost impossible under that kind of scrutiny and exposure. He is doing as well as he can do.
"It is maybe that he really does need a bit of time away, which he will get after the one-day internationals are over and he can have two or three months when he can go onto his wife's farm, drive a tractor, have a few beers and forget about cricket for a while. That would be the best thing for him."