Steven Finn must 'fall back in love with bowling', says Angus Fraser
Last updated on .From the section Cricket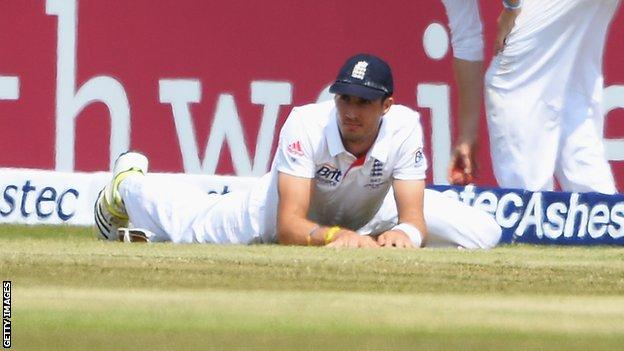 England paceman Steven Finn has fallen "out of love" with bowling but will get back to his best, says Middlesex director of cricket Angus Fraser.
Finn, 24, was the only member of England's Test squad not to play in the 5-0 Ashes defeat and has been sent home from Australia early to "work on technical aspects of his game".
"I've every confidence he will get back to his best," Fraser told BBC Sport.
"He is a man trying too hard. He will work his socks off to get it right."
Fraser, a former England seam bowler, was involved in the decision to send Finn home and said the Middlesex player would be given two weeks off to "clear his head".
Finn has taken 90 wickets in his 23 Test matches, the last of which was the 14-run win over Australia at Trent Bridge in July.
He took 11 wickets in his two first-class tour matches in Australia but an economy rate of 4.44 contributed to his lack of Test action.
"Steven has worked to get things right, turning out an hour early with coaches, and it's not easy when you're getting further and further away from where you want to be," added Fraser, who played in 46 Test matches and 42 one-day internationals.
"It can become a job at times rather than the thing you dreamed about as a young cricketer. We'll work with England to get him back playing cricket and enjoying himself."
After sitting out the Ashes series, Finn was also overlooked for the first one-day international in Melbourne.
"It's hugely frustrating for Steven because he wanted to play a major part in Australia, but sometimes the harder you try the worse it gets," added Fraser.
"Working every day to try and win selection, with people asking where he is and what he's doing, is not the ideal environment.
"I think the main thing is that Steven falls back in love with bowling. I've seen bowlers run up in tears before.
"But Steven just needs to love bowling for the sake of bowling again - not to win selection for the next ODI or the first Test of the summer."
England's next Test is the first game of a two-match series against Sri Lanka, beginning on 12 June.