Kent and Sussex reject Lord MacLaurin's county merger idea
Last updated on .From the section Counties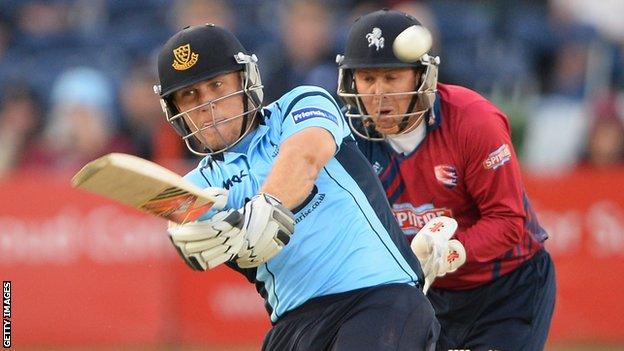 The chief executives of Kent and Sussex have opposed an idea to merge the two clubs to help reduce the number of county cricket sides from 18 to 12.
Lord MacLaurin, a former chairman of the England and Wales Cricket Board, proposed a merger to improve the quality of cricketers England produces.
"I would strongly defend the power of the counties to develop Test-level players," Kent's Jamie Clifford said.
Counterpart Zac Toumazi added: "We at Sussex just can't see the value in it."
He continued: "I think when we hear this sort of thing it is interesting and has clearly stimulated some questions.
"I don't think many people will be saying this is fantastic and absolutely the way forward."
MacLaurin, chairman of the ECB from 1997 to 2002, suggested amalgamating counties close to each other geographically.
"I think 12 counties would be a far better producer of Test cricketers than 18 first-class counties," he told BBC Radio 5 live.
"You could put Sussex and Kent together for one, because they are near and maybe in the south-east of England you'll get some very good players coming through.
"You could do it easily."
Clifford believes a drastic shake-up of the domestic game will not necessarily improve England's fortunes following the national side's 5-0 Ashes whitewash against Australia.
"Every time England do well the ECB pat themselves on the back, the game says 'well done' and we are all very proud about it," Clifford told BBC Radio Kent.
"As soon as England go through a sticky patch, county cricket is often pointed out as being the cause or to blame for that. It is no surprise it has taken a matter of weeks to look at the county game.
"We got to number one in the world and we had three consecutive Ashes series wins. We did that with 18 counties. I am not sure there is a link between the number of counties and the success or failure at Test level.
"If anything I would argue the more counties there are, the more coverage we have in terms of identifying potential Test cricketers and developing them ready for that next level."
Sussex, formed in 1839, and Kent, formed in 1842, are two of the oldest county clubs in England. Both contested the inaugural County Championship in 1890.
Kent have won the title six times in their history, sharing the trophy on one other occasion, while Sussex have won the title three times, all in the 2000s.
"People have supported this club for many, many years and are emotionally linked to the county club set-up," Toumazi said.
"To tell them 'By the way we were established in 1839 but now we are going to merge with another county' hasn't really been thought through.
"I don't believe it is [the answer]."
Clifford added: "We are a county, I would argue, that deserves a county cricket club.
"Never mind whether we ought to have one because of what we might contribute to team England."